(please note, not all clubs listed play music with bongo's in, this is just a stupid ill advised turn of phrase.
THURSDAY 8th August
The Blues Bar has got The Resonators playing there tonight, with entry being free as always.
Clubs wise, I Dj at Rehab on Thursdays…. now, the night used to be called "Don't Stop Believing", but to be honest, the night doesn't need a name – "Thursday" has done
pretty well since it got introduced by our Pagan ancestors – so rather than giving it a rubbish name I'm gonna stick to calling Thursday nights "Thursday nights" because nothing sucks so much as rubbish names for club nights….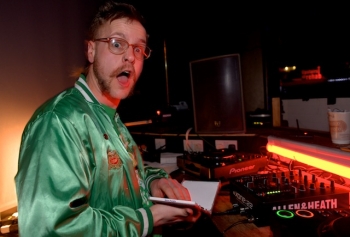 "Flex" is upstairs at Rehab on Thursdays with Dj Tex… Hmmm Pretty bad name…
Whilst "Y.O.L.O" is A Team viper/moko production on Thursdays called "Y.O.L.O." which is an R'n'B night called "Y.O.L.O.". It features the official pre-bar at Moko, I expect that makes Viper rooms the official club night of the club night "Y.O.L.O". What a GREAT name.
If YOU have a club night with a rubbish name please message me details about it and the worst club night name will get a free T-Shirt or mouse mat saying: "Dj Trev is just bitter because he can't come up with a four letter word that describes his dj'ing abilities. Which is mental because I can think of at least one 4 letter words to describe his DJ'ing and loads that describe him as a person."
FRIDAY 9th August
Friday nights Live at Zoso have now moved up the road to rehab, so one suspects they are now called "Friday nights live at Rehab", that names ok, it does exactly what it says on the tin doesn't it? The night is upstairs and is free to get in and this week they have Fauns, with support from Hobson & Tom Peacock. Dj cGi plays after the bands until close, I'm not sure what cGi is playing these days, which is ridic as we're really good mates, but every time we see each other instead of spending time discussing what we are both playing, we seem to get lost in a world of how awesome we both think we are (NB: NOT how awesome we both think the other one is, more like "I am awesomeoer than you, and this is why…" and then we have a jumping contest or something. I can definitely jump higher BTW).
Someone who I cannot jump higher than is Jamie Bramhall who's night Blood and Thunder tonight returns to Retro Bar. This is a Heavy Heavy Metal night that everyone who I know who's been says is well good and plays some different stuff you don't hear at other places.
The Blues Bar has the Charlie White Project, which I have always thought is quite a cool name for a thing, however my concern is that "the DJ Trev Project" sounds a bit like I would have to do something intelligent, instead of just playing recordings by other people with little, or ideally, no gaps in between. And I even struggle with that.
This week, Moko Lounge are Relaunching their Friday nights under the name "Frat Party House". Whilst not a terrible name, this is one of those nights that I look at and it just confuses me. Why would anyone want to pretend to be an American student? But then I understand that pretending to be a Victorian Gentleman with a mullet and stonewash denim isn't for everybody either. So if you fancy doing what American students do (my generation think that involves shouting "toga toga" and putting parts of their bodies through holes in shower block walls, but since this night is at Moko it will undoubtedly be much more highbrow than that) go to "the Frat party house" and enjoy the insanity that is drinking drinks out of red cups.
SATURDAY 10th August
Blues has Jed Thomas there this Saturday, as far as I can work out it's the only place that regularly has live music on a Saturday, the rest of the venues in town preferring to rely upon the awesome talents and effortless charms of "professional Djs" like me.
You can in fact see me Djing for my dinner tonight at The Den. I'm there for the next two weeks, which is good because I've just looked in my cupboard and I'm almost out of food. Just like I'm rapidly running out of things to talk about in this weekly column. And what I've got left to say isn't as funny as it used to be anyway is it?
Elsewhere this Saturday looks like business as usual, I might go out after work on Saturday and do some market research, but then again, I've found that when I DO go out after I've been working I spend all my time speaking to people who go "How come you're not working" and when I say that I have been working and I've finished, they look at me and I can tell they are thinking "oohh-kaaay, you just THINK you still have DJ gigs don't you? You're like one of those men who loses their job and instead of telling their wife, goes and sit and eats his packed lunch in the car… How can I move away from you without seeming rude, you tragic tragic case" and I'm always like "no, REALLY I have been Djing" and they are like "Oooooh yes, you must be doing terribly well, playing at that big club, whats it called -Midlife Crisis presents Tesco's
Car Park?"…
Dj Pieman is back upstairs at Rehab this week, with his Stereotype night, which is a largely rock based party night, and downstairs Dj Wayne and James play "banging club tunes", which I put in inverted commas as though someone else said it, but they didn't, it was me cos I went there the other week and that was what they were doing. It was banging, and free to get in. Banging!
Dj Tex is in Revolution front bar, and "Disco" Dave Mann is in the main room, and that's also free to get in, I work there from time to time and am always pleased to note that the bar staff are very attractive. That's not to say that the staff at other places are not attractive too, it's just that by the time I get to those other places EVERYONE is attractive. As are Kebabs, and fights in taxi ranks.
Lure have DJ on on Saturdays but I don't know what his name is, I think he's new. I'm not sure how it works in bars when you are new, do people put you in a corner and dance round you going "Newboy Newboy"? That would be weird.
Viper Rooms and Moko Lounge are both open, Moko recently relaunched their Saturdays and I've not had chance to get down and check it out, but I think it's now called "risque"! Which I quite like as a name, however the flyer has photo's of lots of girls doing that "Duck face" face thing, which is just another of the many many things in the world today that confuses old people like me. Duck face, Diet coke, MTV, all scary scary things. I'm currently listening to a so-called "song" and it doesn't even have any words in it! What next, people communicating through computers?
Due to new EU working hours limits, there now follows a couple of passages where I just actually do what I'm meant to do, which is list what's on in Harrogate, rather than going off on tangents, or saying if I think the names of club nights are rubbish. Which, for the record, I inevitably will.
SUNDAY 11th August
The Blues Bar has Live Lounge in the afternoon with The Conspirators in the evening and there's more live music on Sundays up at the Alexandra with the Sunday Soundcheck. Also there is proper pub type entertainment at the Fat Badgers Pub Quiz every Sunday. There are also two club nights on offer, The Viper Rooms has "Peek-a-boo" and I'm playing up at rehab with a night that's somewhat anything goes, as really, on Sunday's I'll do anything for a dollar.
MONDAY 12th August
Pieman's pub quiz remains a long standing fixture at The Alexander on Mondays, after which you might be forgiven in thinking there's not much on on a Monday but you'd be mistaken. Zoso Bar has it's new night with Dj's Max & Jake, there is the weekly open mic session at The Blues Bar with Pete Oliver and also Moko Lounge has their karaoki night which is often a great way to wind up a messy night out.
TUESDAY 13th August
The Pete Oliver Band play at The Blues Bar
There is the Folk night at the Tap n' Spile, whilst Blue bar has an "acoustic session" too.
There are two rooms open at Moko, in the VIP Room Jaey Selway presents her Rock Box, playing alternative and hard rock anthems, whilst in the main room Dee J Wyer plays upfront stuff.
Zoso plays host to The Electro Jam, where you're invited to take along some tracks and play them.
Revolution holds "Back 2 Rev" each Tuesday. I did say earlier that I would inevitably not like the name of any club nights listed. Actually I quite like the name Back 2 Rev, mainly because I am somewhat stuck in the 90's where it became "def" to exchange words like "to" for "2". Also it was quite "down" to write "U" instead of "you". Although kids nowadays still do that. Only nowadays the kids in question are all orange with massive hair and are probably high on energy drinks and have ruined their minds by listening to all that modern Hop-Hip music. Tsk.
WEDNESDAYS 14th August
Wednesdays are always :
Dj Pieman at Rehab
Paul Middleton's Angst band at The Blues Bar.
SHAMELESS SELF PROMOTION
I still, for some reason, post something akin to an online radio shows at Mixcloud.com/djtrevuk but less people listen to them than listen to trees falling over in the woods, still it gives me chance to play records without having to play Rihanna every 4th, 6th and "next song because we don't like your Djing and are going somewhere good, with more of our Orange kind". I've also started a blog at facebook.com/djtrevuk because I cannot swear on here, so I do it all there. Please don't visit it if you are offended by : swearwords; poor punctuation; wrong opinions; moaning DJ's who -lets face it, have the easiest job in the world- moaning about how hard their job is.
Thanks for reading, drink responsibly and don't be loose with your affections.
Trev x x x