This Sunday (4 August 2013) saw the annual Skate Jam get under way in the Valley Gardens in Harrogate.
The sun shone and local young people attended in their droves all hungry for the £1,000 worth of prizes up for grabs. The day was hosted by the Sk8 Safe Team who are employed for another year by Harrogate Borough Council for the summer months to promote Skate Park Etiquette on the Valley Gardens Skate Park and recruit Skate Park Ambassadors. Thanks to the council's continuing commitment to the local community the event was completely free to enter and open to all ages and abilities.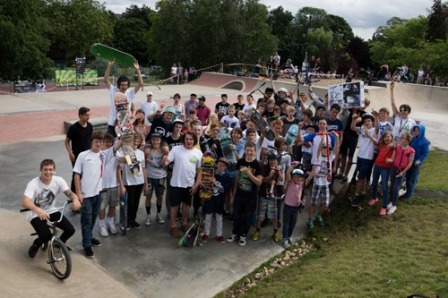 Prizes totalling over £1,000 were kindly donated from Popcornskate, The Works Skate Park, Micro Scooters, Grit Scooters, Crucial BMX and Deckheads.
The guys from Vibration Hi-Fi created a wonderfully relaxed atmosphere with their music which was enjoyed by competitors, spectators and Valley Gardens visitors all afternoon.
Sk8 Safe awarded prizes for skill and use of the park in the main Scooter, Skateboard and BMX events. In the free skate sessions they were keen to reward effort and Sk8 Park Etiquette. Winners from the day are as follows:
Skateboard Under 14, 1st prize went to Ben Hunter with 2nd prize going to Harvey Cord. Skateboarding 14-17 1st prize went to Harry Pye and 2nd prize to Louis Saddler. Finally, in the skateboarding category 17 plus 1st prize for the second year running went to Valley Gardens very own Skate Park Ambassador Tom Van-den-Hoven and the 2nd prize going to Lloyd Clipston.
The BMX was all ages, 1st prize went to Scott Atkinson who also won the ultimate final contest of Best Trick to win 2 weekend tickets to Leeds Festival. The 2nd prize in the BMX went to Callam Duffy and 3rd prize to Valley Gardens Skate Park Ambassador Conor Bedford.
This year the Scooter competitions were judged differently with the categories being Beginners, Intermediate and Advanced. The beginner was won by Kieran Dowdall who had only been Scootering 3 months with Josh Scott coming a close second. The intermediate category was won by Dane Hall who performed some outstanding tricks with 2nd prize being won by Jo Depledge. The advanced competition saw some outstanding very daring performances. The winner of this section was Stevie Cussons.
The Sk8 Safe Team will be on the park every week for the rest of the summer holidays holding Skate Park Etiquette sessions with their newly trained Skate Park Ambassadors and chatting to parents!
Photography by Nate James.