An organisation which champions the rural area to the west of Harrogate is supporting local arts and crafts by handing out a "cracking" number of grants.
And one of those to benefit from Nidderdale Plus – whose aim is to keep services local, support businesses and community organisations and to work in partnership with others – is Crackpots Mosaic Trail.
To celebrate the designation of Nidderdale as an Area of Outstanding Natural Beauty back in 1996, a group of people from Kirkby Malzeard – who christened themselves the "Crackpots" – devised a seven mile trail around Dallowgill marked out by 22 mosaic panels.
The £150 grant – one of 16 given out by Nidderdale Plus – has been used to help restore the mosaics, which depict features, flora and fauna that can be found along the route – back to their former glory.
Crackpots member Pat Lane said:

The mosaics were made in Kirkby Malzeard's Mechanics Institute in 1996 to mark Nidderdale achieving AONB status.

Each tile was located in a strategic position and, over the past 17 years, thousands of people, in particular tourists and families, have loved following the trail.

However, over the years the tiles have been subjected to the very worst of Yorkshire winters and a number were in need of repair.

Thanks to Nidderdale Plus we have been able to purchase cleaning materials, grout and spare tiles. A team of volunteers are now restoring each of the 22 back to their former glory.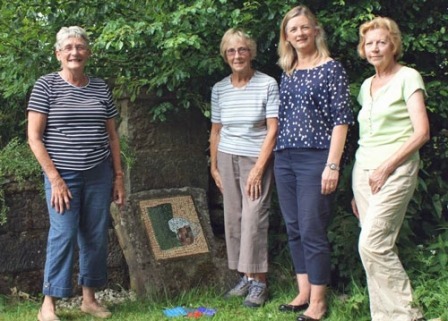 Nidderdale Plus partnership manager Katy Penn said:

We aim to support community groups and businesses in the Nidderdale area and creativity, particularly inspired by this beautiful landscape, is important to many who live and work here.

Thanks to these grants we have been able to support 16 individuals and groups with funding to continue their creative activities.

The Crackpots project celebrates Nidderdale and draws people to the area. When they approached us for a grant we had no hesitation in supporting it.