Farmer's daughter Katy Holmes has turned her creative attentions to the kitchen to launch a 'pop-up' diner with a twist.
The 29-year-old, who has worked as a private chef as well as in the fashion industry, will be serving up a country feast at The Hay Bale Diner on her family's former strawberry farm in Birstwith, North Yorkshire, from 22 August 2013.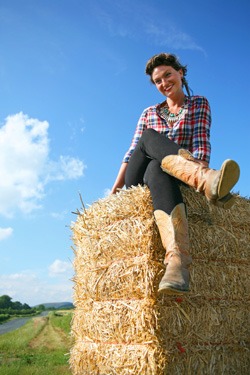 Diners can enjoy a four course set menu that celebrates all things English but with a retro American twist in the farm's barn.
Katy said:

Growing up on a farm has given me a real awareness and passion for local and seasonal ingredients from the source.

I come from a long line of farmers. It makes sense to bring the farm to the table.
But Katy, who worked as a freelance fashion pattern cutter in London and lived for a time in a warehouse with circus and street performers, also wants to test her creative talents.
She added:

Living in London certainly gave me an eye and an ear for an unusual event, to find the fun in everything and to challenge conventions.

At The Hay Bale Diner we will be offering excellent food in a totally unique setting.
The diner's set menu will change each week with an emphasis on quality food served in an exciting and unusual location.
Dishes will include pulled pork served with a three veg hash and an apple, elderflower and ginger relish; baked ham with watercress crushed new potatoes; and a signature dessert – Katy's chocolate cherry bombe.
Guests can expect red gingham table cloths, cowgirl-style waitresses, English flowers decorating long trestle tables and occasional live music.
Katy was inspired by a childhood spent on her father's farm. She has worked as a private chef in the Alps, London and Scotland.
By their very definition pop-up restaurants are temporary, and have grown in popularity over the years.
The Hay Bale Diner will open between 22 August and 15 September, Thursday to Saturday with sittings at 7pm for 7.30pm, and on Sundays at 12.30pm for 1pm.
Tickets cost £25 and will include a welcome cocktail, three courses, coffee and petit fours.