Work to get roads ready to host Yorkshire's Grand Départ next year were given the thumbs up during a flying visit by the Tour de France boss.
Christian Prudhomme was in Yorkshire today to see how the county is preparing for the biggest annual sporting event in the world.
The Grand Départ will see riders race from Leeds to Harrogate on 5 July 2014 and then York to Sheffield on 6 July 6 2014.
More than half of the route will be in North Yorkshire where work is already underway to ensure the roads are race ready. And already 75% of that route in North Yorkshire could stage the race, officials say.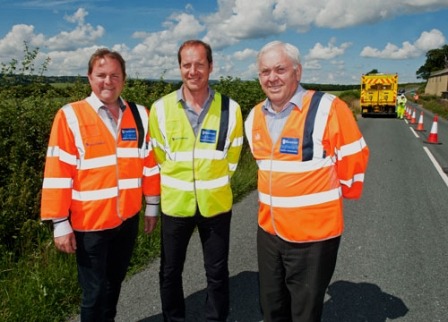 North Yorkshire County Council officials showcased a stretch of the route in West Tanfield to race director Mr Prudhomme and Welcome to Yorkshire chief executive Gary Verity.
Gary said:

It's terrific to showcase how advanced preparations are for next year here in North Yorkshire. Already 75% of the route in North Yorkshire is ready to stage the race which shows the hard work being carried out by staff who are working flat out to gear up for the world's biggest race coming to our county.
John Weighell leader of North Yorkshire County Council said:

It has been estimated that the economic value of the event for Yorkshire is of the order of £100m, a very large proportion of which will benefit the tourism industry – one of the bedrocks of the North Yorkshire economy.  Millions of people around the world will see the magnificent landscape of North Yorkshire on their television screens, and the spin-off for our regional economy – not just along the route of the race, but right across North Yorkshire and indeed across Yorkshire as a whole – will be huge.

The timing of some highways works is being accelerated to accommodate the race, but these were all works which going to be required over the next five years, and they will provide a long-term benefit for the network and for highways users for years to come – in addition to the economic benefits from the Grand Départ.