Starbeck, Ripon, Luddenden, Hunmanby, Garforth and Barwick-in-Elmet prepare for the arrival of RHS Britain in Bloom judges
In Yorkshire, the six locations that have made it to the UK Finals of Europe's biggest community gardening campaign – Royal Horticultural Society (RHS) Britain in Bloom – will be visited by judges between 29 July and 9 August*. An estimated 1,600 volunteers in the region are currently putting the final touches to local projects, in preparation for the judges' arrival in less than a weeks' time.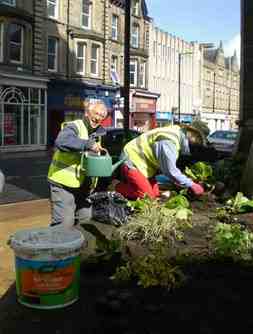 Across the UK, from tiny villages to big cities, 77 finalist communities were picked from nearly 1,000 to participate in the RHS Britain in Bloom UK Finals. Starbeck (Harrogate), Ripon, Luddenden, Hunmanby, Garforth and Barwick-in-Elmet are representing Yorkshire and are all going for Gold and aiming to win their respective categories.
In total, more than 20,000 volunteers are involved in this year's RHS Britain in Bloom finals. Over the last year they have invested more than 100,000 hours of their spare time to get their local area into the finals of the nationwide campaign. Together, they look after 90,000 acres of public space, saving the country an estimated £23 million. In Yorkshire alone, finalist volunteers manage more than 15,000 acres of public green space, like pocket-parks, contributing nearly 10,000 hours of work and last year, planting 30,000 plants.
Jon Wheatley, an RHS Britain in Bloom judge who is visiting Garforth and Hunmanby, said:

We cannot wait to see what Yorkshire has in store for us this year. It's always such a huge pleasure meeting Bloom volunteers and seeing the great work they've done. They are passionate people who work tirelessly, come rain or shine, to improve their local areas. The only regret I have about visiting these wonderful places is that we can't stay for longer. Best of luck to all the Yorkshire finalists.
Britain in Bloom started in 1964 as a way of marketing the country through floral displays. It is now a national campaign with a strong focus on environmentally responsible practices, and bringing people together. In fact, more than half of finalists cite bringing the community together as the biggest benefit of being involved in Britain in Bloom; 42% say increased civic pride is the most notable impact, and 31% said it is having cleaner and greener surroundings. Other benefits include improved local economies, better profile of area and a reduction in crime and antisocial behaviour.
Barwick-in-Elmet (Large Village) is being judged by Andrew Jackson and Martyn Hird on Wednesday 31 July, between 9.00 and 11.00.
Garforth (Town), by Jon Wheatley and Brendan Mowforth on Monday 5 August, between 8.00 and 10.30.
Hunmanby (Small Town) being judged by Jon Wheatley and Brendan Mowforth on Monday 5 August, between 13.55 and 16.25.
Ripon (Large Town) is being judged by Jim Goodwin and Rae Beckwith on Wednesday 7 August between 8.00 and 11.00.
Starbeck (Urban Community category) is being visited by Jeff Bates and Nigel Bishop on Thursday 8 August between 9.00 and 11.30.
Luddenden (Village) is being visited by RHS Judges, Mark Wasilewski and Mel Henley on Friday 9 August, between 9.15 and 11.00.
Each finalist will be judged on community participation, environmental responsibility and horticultural achievement*** and will be awarded a Gold, Silver-Gilt, Silver or Bronze. There is also an award for best in category, as well as special discretionary awards given for achieving excellence in particular fields. The results will be announced at a prestigious award ceremony on 12 October, in Cleethorpes.