Each year, Knaresborough-based Rooster's Brewing Co. brews a seasonal special called White Rose. It's a beer that is made available with Yorkshire Day on August 1, in mind and is also brewed in conjunction with a Yorkshire-based charity to help raise awareness and funds.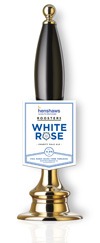 The money raised from this year's brew of White Rose will be donated to Henshaws Society for Blind People, a charity that provides expert care, advice and training to anyone affected by sight loss, whilst also working with people with other disabilities.
One of the UK's oldest charities, Henshaws operates two sites close to the Brewery; Henshaws Arts & Crafts Centre in Knaresborough provides vocational training to people with disabilities, whilst Henshaws College in Harrogate offers specialist further education for residential and day students with a wide range of learning difficulties and disabilities.
In total, 7200 pints have been brewed and, for every pint of White Rose that is consumed, Rooster's will be donating 10p to Henshaws.
Corporate Relationships Officer, Louisa Walmsley said:

We're thrilled to be chosen by Rooster's as their preferred charity for their seasonal special. The money raised for Henshaws will help us continue our vital services for those living with sight loss and other disabilities.
Rooster's is celebrating its 20th anniversary this year, having been established in 1993, and is run by brothers Tom and Oliver Fozard. The beer, a 4% abv., session-strength pale ale, brewed using four hops and soft Yorkshire water to produce citrus aromas and a light and refreshing level of bitterness, will be available in local pubs from the end of July.
Oliver Fozard, Rooster's Head Brewer, comments:

Being Harrogate born and bred, both my brother and I have long been aware of the work Henshaws does within the local area and we are proud to be able to offer our support to what is a very worthwhile organisation. We hope the good folk of Yorkshire will join us in raising a pint on 1 August 2013.