Six illegal workers from Pakistan have been arrested after Home Office Immigration Enforcement Officers visited two pizza takeaways in Leeds and Harrogate.
The intelligence-led operations were carried out on Friday evening (19 July) at Domino's Pizza, Knaresborough Road, Harrogate, and Domino's Pizza, Street Lane, Leeds.
Checks on the immigration status of staff members at the Harrogate franchise revealed two men, aged 28 and 31, who had overstayed their visas, and a 27-year-old man who had entered the country illegally. All are now detained pending their removal from the UK.
The franchisee for the Harrogate branch has been issued with a civil penalty notice for employing the men. This means the franchisee is now liable for fines of up to £10,000 per employee unless evidence is provided that the correct pre-employment checks were carried out on the men, such as seeing a passport or Home Office document.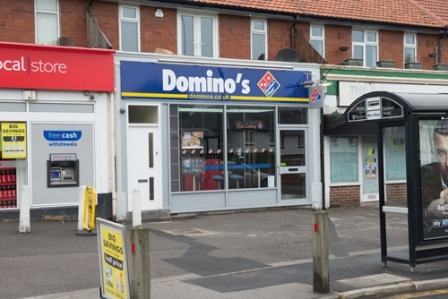 Checks on staff at the Leeds business revealed two men, aged 21 and 30, who had over stayed their visas, and a 24-year-old man who is suspected of working in breach of his visa. The two overstayers are detained pending their removal, and the 24-year-old has been bailed while further checks are carried out.
Acting Assistant Director Julie Curle, from the Home Office's Yorkshire and Humber Immigration and Enforcement Team, said:

Our teams carry out visits like this in Yorkshire almost every day, with more planned in the future.

Illegal working has a serious impact on communities, undermining legitimate businesses and taking jobs from those who are genuinely allowed to work.

I would urge members of the public with information about suspected immigration abuse to get in touch.
Measures to toughen civil penalties against rogue businesses employing illegal migrants, while cutting red tape for legitimate employers, have been unveiled by the Government.
A six-week consultation has been launched as part of government plans under the Immigration Bill to make it more difficult for illegal migrants to live and work in the UK, and to take tougher action against the rogue employers who exploit them. The consultation can be accessed at:
www.ukba.homeoffice.gov.uk/policyandlaw/consultations/#
Immigration Minister Mark Harper said:

Every day our enforcement officers undertake operations like this across the country to combat illegal working.

Employers already have a duty to check that their employees have the right to work in the UK, and can face civil penalties if they fail to do so. The Immigration Bill, which we will introduce later this year, will include proposals to get even tougher on unscrupulous employers, who exploit illegal immigrants and undercut legitimate business. But we will also simplify processes to make it easier for compliant employers to fulfil their responsibilities.
Employers unsure of the steps they need to take to avoid employing illegal workers can visit www.ukba.homeoffice.gov.uk/business-sponsors/preventing-illegal-working/ or they can call the Home Office Employers Helpline on 0300 123 4699.
Anyone with information about immigration crime can contact Crimestoppers on 0800 555 111 anonymously or visit http://www.crimestoppers-uk.org.