Tennants of Yorkshire Antiques & Fine Art Auctioneers have announced that building work on their £8m expansion has just begun.
The 54 week build process started on 5 June 2013 at their main auction house in Leyburn, with a ceremonial 'cutting of the sod'. It also poignantly marked twenty years since Rodney Tennant opened the purpose built saleroom in 1993.
They additionally have a showroom in Harrogate.
The business is now in the 4th generation of the  family, with Rodney Tennant as Chairman and his daughters, Alison and Jane also working within the business.
Rodney Tennant:

The auction market business has changed dramatically over the years. We have always actively strived to not just keep up, but to be ahead of the game and lead.

We recognised that the lower-end of the market had changed and from that we expanded our knowledge experts so we could offer more.

We still sell throughout the world, but there has been a shift from predominantly exporting West to America and Canada to now exporting East to China and India.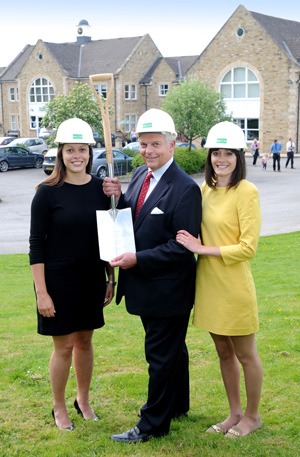 To mark the start of the build, the Tennant family and staff were recently joined by construction company ESH Build and architects Langtry Langton for the ceremonial start of the build.
Langtry Langton are are working closely to ensure the design compliments the existing auction house and surrounding area.
The programme of works has been designed in order that the sales calendar continues without disruption until opening in the summer of 2014.
As well as up-to-date facilities encompassing three new salerooms and departmental areas, there will be galleries of display cases constantly promoting items for forthcoming sales and opportunities to host music, theatre, lectures and exhibitions. There will be two new enlarged restaurants.
Rodney Tennant said:

The new facility will give a 530 seat flexible space that will be used for more than just auctions.

It's set over 2 floors and has 3 large dividing walls giving flexibility in hosting a number of smaller exhibitions or something much larger.

Key to this development is that we will also be opening the facility for use by the local community.

We will  be able to offer tours – I have 25 departments and we will be running specialist lectures and tours. This will mean that people can come to our auction rooms and learn from my team.