Harrogate-based event specialist Joe Manby Limited is saying goodbye to two of its longest serving employees, Eileen Land and Geoff Lowe.
Between the pair they've clocked up nearly 65 years' service at the Harrogate firm.
Eileen joined the Company in 1984 as a receptionist before moving to the electrical division in 1992. Over the years she has developed a close working relationship with the firm's customers.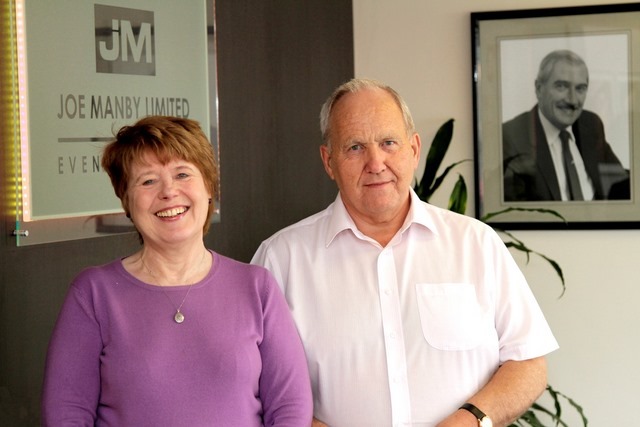 Eileen said:

I've always enjoyed coming to work and will miss the people – staff and customers – the most. But I'm ready to enjoy my retirement, spend more time with my grandchildren and try my hand at some voluntary work.
Geoff started at Joe Manby Limited as a painter/decorator in March 1978 and became part of the firm's senior management team in the early 1990's. Over the years he has managed many of the firm's largest events, including 100% Design Show, Spring Fair and The British Bridal Exhibition Harrogate.
Geoff said:

Since I began working on exhibitions in the 1970s we've moved away from timber frames to modular systems and turnaround times that would have been unrecognisable in those days. However key elements such as teamwork and finding a creative way around any problems remain today. I've now worked on many events for longer than the organisers themselves and my knowledge and experience has always been appreciated.

I'm now looking forward to retirement and visiting my favourite destination of Madeira more regularly.
[sam id="4″ codes="true"]
Andrew Manby, director at Joe Manby Limited, said:

We all want to thank both Eileen and Geoff for everything they have achieved and contributed. We wish both them and their families a long, happy and healthy retirement; there can be no doubt it is richly deserved.