This was Harrogate's 4th loss of the season. Arguably, the other 3 were games which could or should have been won but the better side undoubtedly took the honours on Saturday. Like the December encounter at Sandal, this was an enthralling, high quality match.
Harrogate opened with a range of attacking moves but the excellent Sandal defence held firm. The visitors took a Harrogate scrum with a strike against the head, Harrogate went offside and Greg Wood's penalty goal gave Sandal an early lead. Attacking play tested both defences but Harrogate were penalised for a marginally high tackle and Wood duly extended the lead.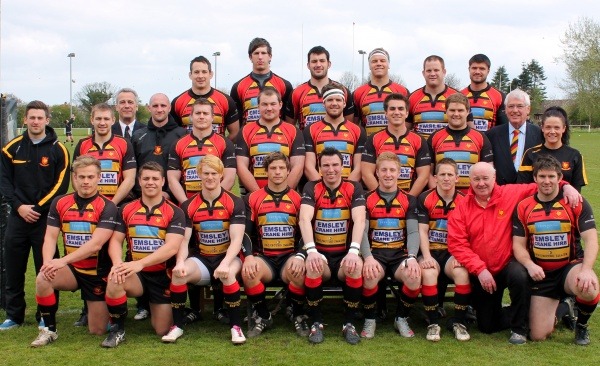 Harrogate stole a Sandal line-out ball and forwards and backs combined well for a period of creative, attacking rugby. Callum Irvine, Kyle Dench and Sam Bottomley all made strong breaks to force Sandal to go offside. An Irvine penalty reduced Sandal's lead.
More Harrogate attacks followed but they were well contained by Sandal's pressured defence which frequently forced knock-ons. A Harrogate offside offence was penalised and, from the ensuing attacking line-out, Sandal set up a driving maul. Jonny Gatus squirmed through the mass of bodies for the game's first try to put Sandal 3-11 ahead at half time.
On the resumption, Harrogate again took the game to Sandal. Powerful forward driving play created space for the backs with hooker, Aarin Yorke showing searing pace to provide these links. The ball was spun left and Yorke made the extra man to dive over for a fine try.
[sam id="4″ codes="true"]
Two promising Harrogate attacking moves were halted by the referee because of apparently serious injuries to Sandal players. Happily, these injuries proved to be false alarms. Sandal's defence continued to cope well with Harrogate pressure and flanker, James Briscoe mounted a counter attack. Good Sandal support led to them crossing the Harrogate line in the left corner but the Assistant Referee had to be consulted before the try was awarded to Max Whittingham. Minutes later, a driving maul set up another Harrogate backs attack and it was again Yorke who was in support to dive over. Unfortunately, the "scoring pass" was adjudged to have been forward.
Mike Aspinall came off the bench for Harrogate and made an immediate impact with incisive breaks which split the first line of defence. Sandal's well organized tackling continued to hold firm and, when they won a midfield turnover, Wood dropped a smart goal to increase their lead. Increasingly frantic Harrogate attacks continued for the remaining 10 minutes but Sandal held out for a well deserved victory.
Final score Harrogate 8 Sandal 19
Harrogate
Denton, Minikin, Dench, Bottomley, Wackett, Irvine, Wickham, Metcalfe, Yorke, Browne, Harvey, Wilson, J Brady, Smith, Heaton, Aspinall, S Brady
Sandal
Coad, Frewin, Allott, Martin, Ellar, Wood, M Whittingham, Purcell, Heron, Norbury, Thompson, Stewart, Maguire, Briscoe, S Whittingham, Norbury, Gatus, Newm
Referee
Brendan McGaffney (Northern Division)