Sunday the 24th of March saw the last open competitive opportunity at Bilton Working Men's Club to play against Phil The Power Taylor for the Harrogate regions Darts Players. A good turn out and well organised event saw surprises and controversy as the day progressed.
Many players from York, Harrogate, Knaresborough and Skipton hoped to progress through the rounds to have the opportunity to play against the 16 times world champion on April 5th. The early start and problematic weather conditions were overcome by a enthusiastic crown of Tungsten tossing hopefuls, in with a chance of qualification were Dean Lawman, a local Dales favourite, and Lewis Pride a Yorkshire Youth promising talented local player. Lewis had a shock in the first round when he discovered he had been drawn against veteran Yorkshire player, and crowd favourite, his father Alex Pride. a close game saw Lewis overcome his namesake in a well played match.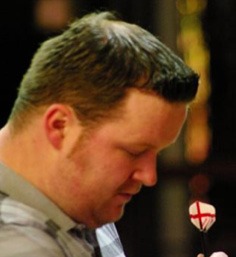 In other games Dean Lawman was drawn against Lancashire Youth player Ryan Hogarth, Lawman was once again successful in overcoming the talented young county player. As the draw neared the Quarter and Semi finals rumblings in the crown had already begun as two players who had already qualified for the event "Allowed to enter under the rules" were playing well and looked favourite to possibly negotiate another final appearance.
A decision was made by both finalists to allow the two loosing semi-finalists to compete in the final for the main prize, this was a controversial move as players who had been knocked out in earlier rounds by the 2 players had lost their opportunity to qualify for the main event. Either way the stage was set for a great final game, Best of 7 legs between this years Middies champion Barry J Nelson, and local legend Martin "Super Sharp Shooter" Chappell.
The match was close, with both players performing when required, and the game was all even at 3 legs all, a deciding leg of 501 brought silence from the audience as shouter and match official Tony Sharratt called for the last time "Game On!!" Nelson started the game with a maximum 180, followed by Chappell with nerves of steel, 180, a great following throw, Nelson the with 6 perfect darts, followed with another 180, the crowd silenced. Chappell followed with an 85, and failed to follow the Lawman, missed opportunities scoring power of Nelson, and the game was gone. Nelson finished the leg with another 9 darts, but all in all had shot Chappell chances with the two 180's in a single leg.
As the game finished and players shook hands, a few howls of derision were heard from the crowd, not at the players, but at the organisers who had allowed players who had already qualified for the event to take the main, controversial decision of the day.
[sam id="4″ codes="true"]