A rare owl, which stands which more than two feet tall and hunts foxes and small deer in the wild, will be entertaining visitors at a North Yorkshire medieval castle this Easter.
Cleo the Turkmenian Eagle Owl, has become the latest bird of prey housed in the gardens of Bolton Castle, in Wensleydale.
The rare owl, which was bred at nearby Thorpe Perrow, is usually found throughout Europe and Asia, although it is becoming increasingly scarce in parts of Europe.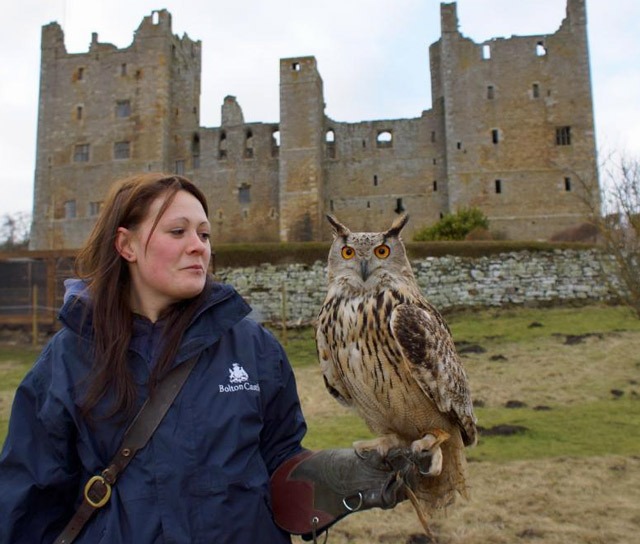 Its vivid orange eyes help it hunt for food at night such as shrews, foxes and even young deer!
Katie Boggis, General Manager at Bolton Castle, said:

The birds of prey are one of our most popular features at the castle, particularly when they are taking part in the twice-daily displays.

Cleo is one of two new owls at Bolton this year, with the second being a tiny Southern White-Faced Scops owl.

We're also expecting a magnificent black kite to add another dimension to our falconry displays. The Kite can fly in almost all weathers meaning that this year our falconry displays will be able to take place even in very windy conditions.

Cleo settling in well and she is thriving with all the attention from visitors early in our open season. Turkmenians like to live in rocky areas, valleys and ravines, so the grounds of the castle are a perfect environment for her.

She really is an impressive creature, and we hope that many of our visitors will love her as much as we do.
[sam id="4″ codes="true"]
For further press information please call:
Katie Boggis, General Manger, Bolton Castle, on 01969 623981
David Simister, Different PR, on 0845 389 2626
Photo Caption: Owls That! The Turkmenian Eagle Owl with handler Lindsay Bevan