Harrogate 1st XV Rugby Team – This match was played on an absolute mudbath and the players were so clarted that it was difficult to differentiate between the teams at rucks and mauls.
The referee controlled the game admirably in these appalling conditions to make it an absorbing contest. Despite going 10 points behind in the first 20 minutes, Harrogate continued to play controlled attacking rugby and scored 4 tries to achieve a bonus point win. Harrogate's Physio, Sophie Smith-Moore was away on county duties and her "deputy" was none other than Professor Ralph Kester. Ralph contributed medical expertise, exuberant banter and refreshments for officials from his hip flask throughout the game.
Harrogate had the edge in the early exchanges with scrum half, Phil Wickham showing excellent handling skills in dreadful conditions. The midfield trio of Callum Irvine, Sam Bottomley & Kyle Dench were a constant threat but Harrogate went offside and a Dave Hall penalty opened the scoring. From an attacking line-out, Park mounted a well controlled, 15 metres driving maul and Stuart Brown drove over for a try, converted by Hall.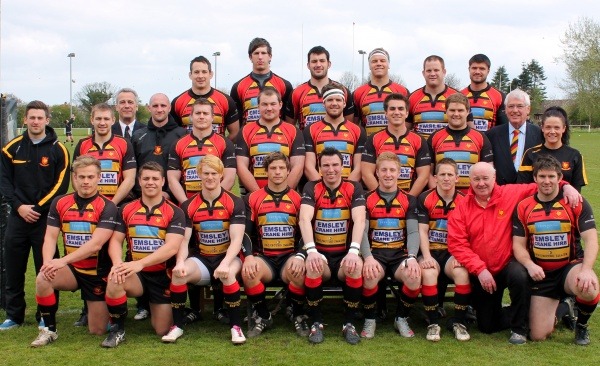 Harrogate's captain, Jimmy Browne kept the team's focus going and had an absolutely towering game in both tight and loose play. In a carbon copy of Park's try, Harrogate set up an even longer driving maul from good line-out ball and Tim Heaton crashed over. Irvine landed an excellent touchline conversion. Harrogate took the lead by winning quick turnover ball from a Park counter attack and Jake Brady powered through for a fine try.
The Harrogate scrum got more and more dominant in the second half and took 2 successive strikes against the head. Dan Metcalfe had coped well against the monstrous veteran prop, Martin O'Keefe and was in complete control after O'Keefe was replaced. Backs and forwards combined well in an exhibition of controlled, wet weather rugby and Sam Brady made it a family occasion by scoring a converted try.
The controlled Harrogate pressure continued and the scrum crossed the goal line from a 5 metre scrum but Park beat them to the touch down. Park then put in a long attacking kick which was fielded in the deep by substitute back, Mike Aspinall who set off on a dazzling, length of the field run. Pete Wackett supported him and took the scoring pass to make the final result – Birkenhead Park 10 Harrogate 24
Birkenhead Park
Houliston, Hughes, Rich, S Woof, Hall, B Woof, Brogan, Cassidy, Doolan, O'Keefe, Campbell, Finneran, Ashcroft, Olliver, Ibbotson, Pollard, Brown, Scott
Harrogate
Wackett, Ellison, Dench, Bottomley, Audsley-Beck, Irvine, Wickham, Metcalfe, Maycock, Browne, Harvey, Johnson, J Brady, Smith, Heaton, Aspinall, Yorke, S Brady
Referee
Dean Walker (Northern Division)