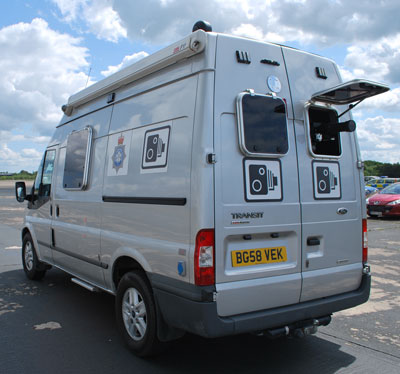 As North Yorkshire Police prepares for the transition from a single, mobile safety camera pilot, to three permanent mobile safety cameras, the usual system of deploying to specific routes for a week at a time, will temporarily change.
As part of a quality control check, every route which they have enforced over the course of the pilot scheme will be visited by officers over the coming weeks to ensure it is still suitable for safety camera enforcement.
Therefore the safety camera will be present at every site at some point over the next few weeks.
A full list of current sites is available on the force website www.northyorkshire.police.uk/routes
Their usual system of notifying the specific routes each week will be suspended.
They will publicise the launch of the new mobile safety cameras ahead of their operational deployment.
Mobile safety camera pilot – all deployment routes
A64 east-bound Bowbridge Farm Tadcaster
A64 west-bound Bowbridge Farm Tadcaster
Millfield Lane, Poppleton, York
Beckfield Lane, Acomb, York
Green Lane, Acomb, York
Temple Lane, Copmanthorpe, York
A1036 Tadcaster Road, Acomb, York
Strensall Road, Huntington, York
The Village, Stockton On Forest, York
A1036 Malton Road, York
York Road, Haxby, York
Broadway, Fulford, York
Murton Way, Murton, York
Fordlands Road, Fulford York
B1228 Main Street, Elvington, York
B1228 Dunnington Lodge, Elvington, York
Grange Farm, Wheldrake Lane Elvington
A1237 Monks Cross, York
A19 Selby Road, Whitley
Millfield Road, Chapel Haddlesey
Brayton Lane, Brayton, Selby
Barff Lane, Brayton, Selby
Skipwith Road, Escrick
A63 Hull Road, Hemingbrough
Church Lane, Wheldrake
A56, Thornton-in-Craven
A65, Clapham by-pass
A65, Settle by-pass
A65 Hellifield
A629 Low Bradley
A629 Crosshills
A629 Skipton
A59 Beamsley Hill
A61, Ripley, Green lane
Jennyfields Drive, Harrogate
A61, Leeds Road, Harrogate
A59, High Street, Starbeck
B6163, Thistle Hill Road, Calcutt
A63 Milford Hotel Newthorpe
B1217 Saxton lay-by
Woodhouse Farm, Escrick Road
A1246 Great North Road, Fairburn
Escrick Road, Stillingfleet Mine
A684 Bainbridge
A684 Garsdale Head
B6255 Hawes
B6255 Gayle Moor, Hawes
B6479 Selside
B6479 Horton-in-Ribblesdale
A61 Hill House Farm, Ripley
A684 Aysgarth, Garth lane
A6108, Middleham, Leyburn Road
A6108, North Stainley
B1257 Newgate Bank, Hawnby
Station Road, Thirsk,
A61, Carlton Road, Carlton Miniott, Thirsk
B1257 Newgate Bank, Hawnby
B1264 Low Worsall
Guisbrough Road, Great Ayton
Leeming lane, Catterick village
A6108 Darlington Road, Richmond
A6271 Great Langton
Gatherley Road, Brompton On Swale
A171 Jugger Howe opposite Springhill Farm
B1460 Castle Road, Whitby
A171 south of Scaling Dam
A169 Whitby to Pickering Road near Goathland
A169 Whitby to Pickering Road at High Horcum
A171 North of Whitby at Kempston Rigg
A171 Mayfield Road, Whitby
A1039, Filey Road at Flixton
B1427 Queen Margaret's Road, Scarborough
B1249 at Staxton Wold near Staxton, Scarborough
A165 Reighton by-pass between Sands Road and Hunmanby Road
B1249 Foxholes to county boundary
Stoney Haggs Road, Scarborough, south-bound
A170 Scarborough to Thirsk Road at Snainton
A19 Crathorne
A170 at Scawton Moor
A170 Eastgate Pickering
A64 Malton by-pass Malton east and west-bound
A64 Seamer by-pass Scarborough
A64 Seamer Road, Scarborough
A64 Between Whitwell Hill and Barton Hill
A64 Between Barton-le-Willows and Jinnah
A64 Between Barton Hill and Whitwell Hill
A64 Malton by-pass Malton west-bound
A1039 Filey Road at Flixton
Stoney Haggs Road, Scarborough
A64 Malton by-pass east-bound
B1249 at Staxton Wold near Staxton, Scarborough
B1249 Foxholes to county boundary
A165 Reighton by-pass between Sands Road and Hunmanby Road
A1039 Filey Road at Flixton