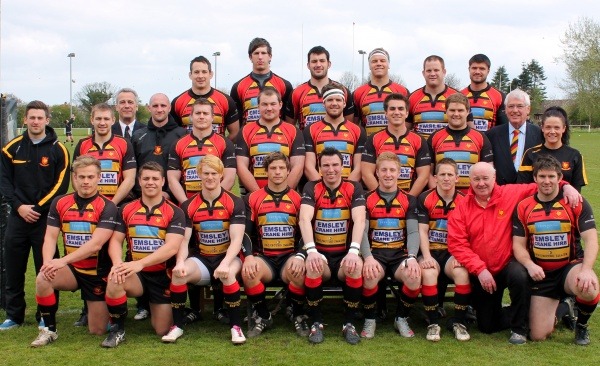 This was a bonus point win, there were no serious injuries and no yellow cards were awarded to Harrogate. Despite this, it was a below par performance against the League's bottom side and Mike Aspinall put the team through a punishing beasting session on the pitch before allowing them into the changing rooms after the game.
Harrogate's first try came from Noel Minikin after West's possession had been turned over and creative back play opened a gap for him. West scrummaged adequately throughout the match but they had little else to offer and Harrogate should have made more of the opportunity to improve their League score difference. Callum Irvine, Sam Bottomley and James Audsley-Beck all showed flashes of brilliance and Kyle Dench was at his imperious, physical best throughout the game.
Forward domination led to the next try. West were penalised at a Harrogate driving maul and the ball was spun wide from the ensuing attacking line out. Prop, Jimmy Browne was in support to crash over and make it 0-10 after 15 minutes. Valiant West attacking efforts were foiled by resolute Harrogate defence. Bottomley and Dench put in bone crunching tackles and Browne efficiently organized the forward defensive blanket.
West opened the second half by stealing Harrogate possession at the back of a scrum. Harrogate went offside and a Stu Waites penalty kick gave West 3 points. The Harrogate pack was very much in charge of the physical exchanges with abrasive performances from Tom Harvey, Jake Brady, Tim Heaton and Nathan Smith. Chris Wilson dominated the lines-out and, although the attacking machine was spluttering, Harrogate's superiority continued. Substitute centre, Pete Wackett then made a dazzling break, the ball was shipped right and Heaton was in support to score.
West's hooker, Andrew Dixon verbally abused a touch judge after this try, was duly yellow carded and the game restarted with a Harrogate penalty. Line out possession was quickly delivered and Dench crashed through West's midfield defence for an under the posts try, converted by Irvine. The Harrogate pressure continued and hooker, Steve Maycock scored their fifth try. After the match, Heaton's girl friend claimed that he'd scored it but the purity of the press prevailed.
West's consolation try came in the final move of the match from good scrum possession which was quickly delivered to centre, Colin Cheslin
West Hartlepool
Southern, Butcher, A Cheslin, C Cheslin, Edwards, Waites, Painter, Pinchen, Dixon, Coates, Robson, Hogan, Myers, D Boatman, J Boatman, Wood, Mallinson, Atkins.
Harrogate
Denton, Minikin, Dench, Bottomley, Audsle-Beck, Irvine, Wickham, Metcalfe, Maycock, Browne, Harvey, Brady, Wilson, Smith, Heaton, Wackett, Innes, Johnson
Referee
Dean Lythgoe (Northern Division)