Harrogate railway Ladies went a comfortable 4 points clear at the top of the league after beating second place Tingley 7-3 today ( 17-2-13).
Railway had a score to settle with Tingley after they lost, away, after a 9 week break through the winter. It took only 4 minutes for Hannah Campbell to latch onto a great through pass from Captain Ally Purvis and slot home her first of 4, Railway were looking as good as ever from the start and it was Jodi Hodgson who became the supplier on the 10th minute with a wonderfully weighted pass into Hannah's feet who made it 2-0.
Tingley pushed forward from the re-start and forced Emma Prest into a double close range saves, this only inspired Railway to concentrate and play harder, on 30 minutes Emma Lansdall (left back) ran down her line with the ball passed inside to Lauren Taylor who passed onto Hannah to strike a brilliant shot into the far right corner, 3-0. Railway were in a very comfortable position by now but a lack of concentration in the defence and midfield allowed Tingley the chance they neededso after 35 minutes Tingley passed out wide and a great shot from 20yrds out found the far top corner, 3-1.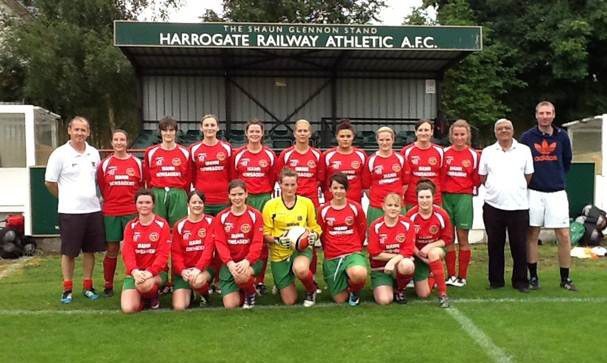 After the half time break Railway started the strongest, Jodi finding Hannah, again with a fine pass on 47 minutes, who went on a solo run of 50yrds beating everyone with her skill and pace to score her 4th goal 4-1. That run had the Tingley manager in uproar on the touch line, Railway were looking rampant, every time they got the ball it went straight back at Tingley's goal. After only 52 minutes it was Dee Swales turn to go on a run of 35yrds and drive the ball into the bottom right corner, 5-1.
As Railway kept pressing they won plenty of corners and on the 61st minute Lauren Taylor latched onto a corner sent in from Nicola Hadley and head home to make it 6-1. Tingley were looking tired but they never gave up and as Railway looked for more goals so the holes opened up at the back, and then Tingley punished railway for being sloppy bagging two quick goals , 66mins and 70minutes to make it 6-3.
After 73 minutes Railway put on a new keeper (as Emma's broken finger was giving to much pain to carry on) this was the under 18s keeper Poppy Hisslop, this her first game in the ladies league. Railway sorted themselves out and went on to score the 7th goal on the 82nd minute When Lauren put a great cross in which Dee Swales struck home to seal the match.
Player off the match was shared between Emma Lansdall for her work and passing on the left and Ellie Mcleod for the tackling and work rate in the midfield. A great show of strength and determination by all the Railway ladies today well done.
Next week the Ladies are at home again against Hemsley Ladies KO 1-30pm