Harrogate plasterer Adrian Wintersgill has been named best building apprentice in Yorkshire and Trent in the Federation of Master Builder's (FMB) Master Builder and Apprentice of the Year Awards. He previously won the FMB's apprentice of the month award which profiles talented apprentices and highlights the importance of training.
The Apprentice of the Year Award is a nationwide search for the cream of the construction industry's future talent.
Adrian, who recently completed his Advanced Apprenticeship in plastering at Leeds College of Building has since been awarded a place on the Prince's Foundation Apprenticeship programme. He was chosen for his high standard of workmanship, professional attitude and dedication to his work. Adrian now runs his own business in Harrogate – Ornate Mouldings Ltd.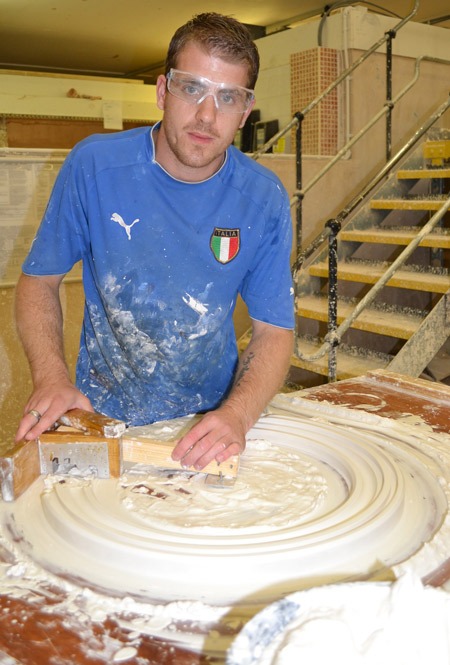 Adrian will go up against other apprentices from around the UK with a chance to win the coveted title "Apprentice of the Year", as well as a cash prize of £1,000 from the FMB. The national winner will be announced by architect and TV presenter George Clarke, who will present the coveted accolade at a ceremony at the Park Plaza Westminster Bridge Hotel in London on 20 March 2013.
Phil Parkinson, FMB Services Director for Yorkshire and Trent, said:

The FMB's Apprentice of the Year Award celebrates talented apprentices who have worked hard to achieve high standards of skill and craftsmanship in their chosen trade. Adrian is an outstanding example of an apprentice showing commitment, dedication and determination to carve a career in this important industry, and we wish him the best of luck in the national final.

Adrian also recently took second place in the student of the year competition at a prestigious award ceremony by The Plaisterers' Company – the trade guild for plasterers in the UK. His tutor Michael Glossop says: "Adrian's willingness to succeed is an inspiration to all students. He is extremely talented and these award wins prove he is one of the best in his field.