Skyfall might be the biggest grossing film ever in the UK, but Yorkshire Water is giving James Bond a run for his money in the gadget stakes this winter.
Low winter temperatures can put all sorts of pressures on water pipes, often leading to an increase in bursts, which can impact on water supplies and cause traffic disruption.
However, the company's very own Q is using a mix of gadgets and technologies to ensure its vast 34,000km network of underground pipes is winter-ready and that, should a burst occur, the team is able to respond as quickly as possible to get it fixed.
Sam Pearson, Yorkshire Water's very own Q, says:
We might not be fighting international terrorists, suited villains with a penchant for stroking cats or Korean manservants called Oddjob, but we know from experience that sharp changes in temperature can have a very damaging impact on pipes, often leading to an increase in bursts and disruption to water supplies.

We have a dedicated team whose job it is to ensure that we're winter-ready, with operatives both out on the ground and in our MI6-like control centre where we closely monitor all activity occurring along our underground network of pipes.

Instead of Aston Martins we have specially adapted 4x4s for getting critical staff to and from work and our telemetry gadgets mean we're able to monitor and control exactly what is happening on our underground pipe network at any given time.

And whilst we don't have exploding pens or mini-rockets masked as cigarettes, our technology allows us to move water around the county, vary the amount of water running through pipes and spot underground leaks within seconds.

One relatively recent development which even the real Q would be proud of is our ability to remotely turn on targeted heating to prevent key pipes in water treatment works from freezing.

So, whilst we can't totally eliminate bursts on our pipes during freezing weather, customers can be assured that all our hard work and investment has put us in the best possible position to protect water supplies and minimise any disruption caused by winter bursts, ensuring customers continue to receive their water just the way they like it – neither shaken nor stirred!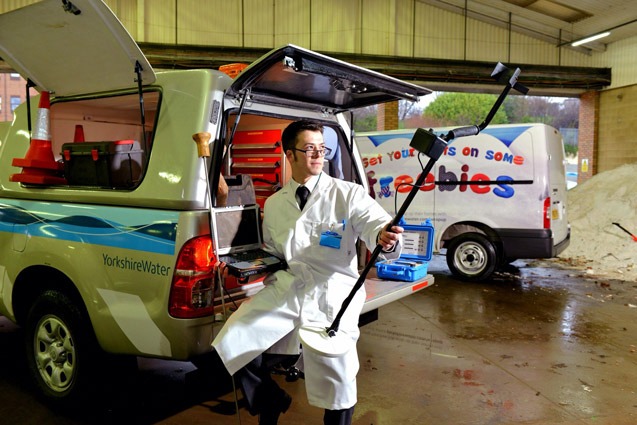 Other gizmos and gadgets the company is using to combat Jack Frost and company, include:
a £300 million underground grid of pipes which enables it to move water around the region to where it is most needed
telemetry and technology which enables it to monitor this network and remotely control it 24/7
using a weather forecasting company to provide tailored forecast data for all clean and waste water treatment sites so they can take steps to ensure they are well prepared, whatever the weather
Since 1995, the company has reduced leakage on its inherited network of pipes by 45%, with the company spending more than £39 million in the last two years alone on replacing ageing water pipes and improving leakage detection systems.
And whilst the company is working hard to protect its water pipes this winter, Yorkshire Water is urging its customers to make sure they don't fall foul of the weather by ensuring their private water pipes are protected from the cold.
Every year, following cold snaps like the one last week, the company receives hundreds of calls from concerned business and home-owners who have suffered flooding as a result of cracked pipes, which have ruptured as the frozen water inside them has begun to thaw.
Simple measures when it's particularly cold such as keeping the heating on a low level during the night and whilst you're out will help to ensure pipes don't freeze, whilst long term measures such as insulating pipework and storage tanks will help to avoid frost damage and any costly repair bills that might result from this.
More advice can be found at yorkshirewater.com/wrapup or by following us on Twitter @yorkshirewater.