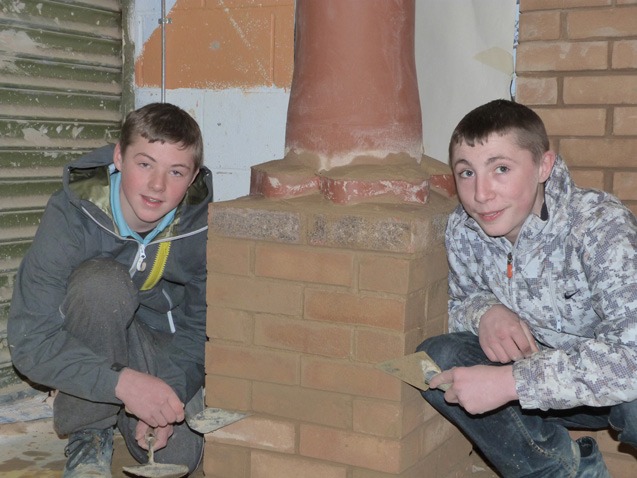 Local school students have completed a special Christmas themed project to demonstrate the skills they have developed in brickwork.
The Foremost School students attend a level 1 brickwork course at Harrogate College as part of their learning programme inspiring them in choosing a future career path.
The student's managed the project from design to completion creating a festive scene depicting a Christmas tree with fairly lights and two chimney stacks with Father Christmas Boots sticking out of the chimney stacks using advanced block work techniques.
Foremost School Students Jack Marshall and Robbie Nelson developed skills in a range of brickwork techniques including, block work, rendering, trowel skills, health and safety, teamwork and communication skills.
Foremost School Integrated Learning Assistant Peter said:

The lads have learned a set of skills in a very short amount of time and have a real talent for bricklaying they have made a real success of this project.
Foremost student Robbie Nelson said:

It's an experience, I've enjoyed the bricklaying and how to create a brick panel from a plan, we have really enjoyed constructing the chimney pots, and I am now considering a career in bricklaying when I leave school.
Construction Lecturer Mark Garland said:

Both students have high attendance levels and they have worked extremely hard to complete this model. It involved complex brick and block work design and the end product was to a very good standard.
School students interested in construction who want to find out more can visit a construction open event on Saturday 10th February from 10 am – 2 pm or alternatively contact the Vocational Skills Academy Manager – Peter Beck on (01423) 878230 or e-mail: pbeck@harrogate.ac.uk