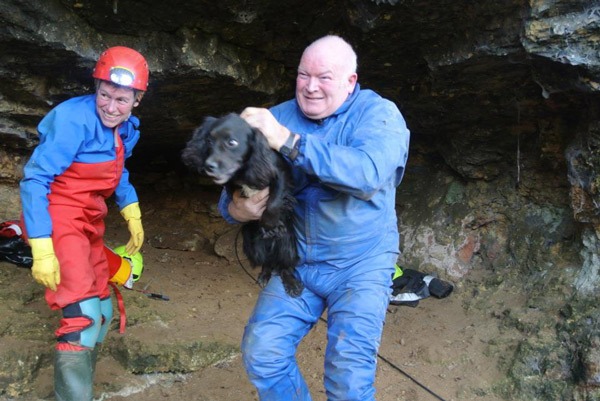 A 9 year old Cocker Spaniel was rescued from a cave in Calcutt near Knaresborough this morning (18 November 2012) after becoming trapped.
The dog is owned by Debbie Nash, Debbie said:

Basil ran into the caves, which he normally does and runs back out within 5 minutes, this time he didn't come out as the cave had fallen inside locking him in.

I called the RSPCA they wouldn't help us and said to ring back in 24 hours if he didn't turn up, I then rang the fire brigade who sent an officer down to asses.

The RSPCA also turned up and the fire brigade put a endoscope to locate Basil and then the Upper Wharfedale Fell Rescue came.
Fire Crews received the call at 10:14am and sent an officer to Calcutt near Knaresborough.
A spokesperson for North Yorkshire Fire and Rescue said:

North Yorkshire Fire and Rescue Control room received a call earlier this morning to reports of a dog who had become stuck in caves and had been there for some time.

An officer from Fire and Rescue made the initial attendance to the incident to assess the situation. In the mean time, the RSPCA were also requested to attend. Upon arrival, the Fire and Rescue officer requested that a Heavy Rescue Unit and crew from Ripon fire station be sent to the incident to help in locating the dog within the cave.

An endoscope was used by fire and rescue crews to locate the dog, who was stuck approximately 6 metres into the rock face.

Fire and Rescue crews then stood by at the incident until the arrival of a specialist cave rescue team.
Basil was safely rescued by the cave rescue team, and handed back to his owners unharmed.
Debbie added:

Basil was stuck for 6 hours and we wouldn't have been able to get him out with out all the support we received.

We are very grateful and would like to thank everyone who helped rescue him.