On Sunday, 11 November 2012, Harrogate Railway Ladies were away in the League cup, 2nd round, at Brayton Belles and came away 0-2 winners.
Brayton are currently 2nd behind Railway in the league so this was always going to be a challenge for Rail, and sure enough Brayton came at railway hard from the start, causing the back line, Emma landsall, Ali Purvis, Issy Rowe, and Cat Purvis to scramble away some very strong pressure in the first 6 minutes.
When Railway settled down they took good control especially in the midfield, this is where player of the match (again) Ellie Macleod stood strong and produced a great performance winning tackles and feeding the ball left and right to the wingers.
Railway after 18 minutes had a great chance when Dee Swales had a shot cleared of the line, Rail kept the pressure on and finally found the net with Hannah Campbell on the 35th minute, a lovely pass from Jodi Hodgson into Hannah's feet who drove the ball past the Brayton keeper 0-1. For the next 10 minutes Rail kept pushing but the Brayton defence held strong until the half time whistle.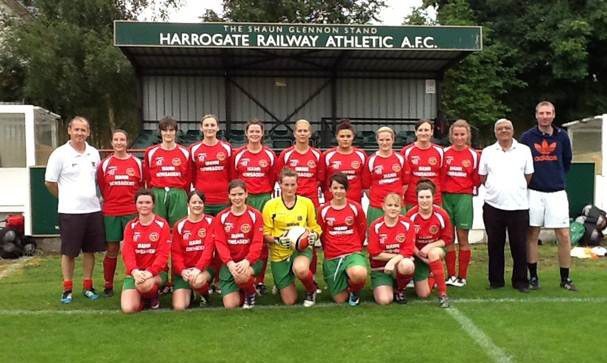 At Half time the railway ladies were told to keep there concentration as the referee was having a stinker of a game and not controlling some harsh tackles! This said out they went looking to close the match as quick as possible. It was end to end for the first 10 minutes with both teams having chances, first Brayton hit the cross bar then the clearance found Nicola Hadley doing the same at the other end, Railway won a corner on the 64th minute Ali Purvis delivered a great corner for Nicola to head home 0-2.
Brayton never gave up and with 10 minutes to go had two shots saved by Emma Prest, a clean sheet for the railway keeper. A very good performance from the Railway ladies, far better than the last two games. Next week they are away in the second round of the county cup against Bradford City, a very tough challenging game.