GSPK Circuits Ltd, part of the TCL PCB Group of companies, were recently presented with their official Queen's Award and Scroll in a prestigious ceremony held at their Boroughbridge premises.
The event was attended by the staff and hosted by Her Majesty the Queen's representative, Lord Crathorne, in his capacity as Lord Lieutenant of North Yorkshire – the Mayors of Knaresborough and Boroughbridge were amongst the guests.
On receiving the award the award MD Steve Lloyd acknowledged the hard work and dedication on the part of the whole GSPK team and especially the Export Sales Team. He went on to say '…this is also a refection of the loyalty of our long-standing international customer base to whom we say a big thank you for their business to date and we look forward to a mutually successful 2013'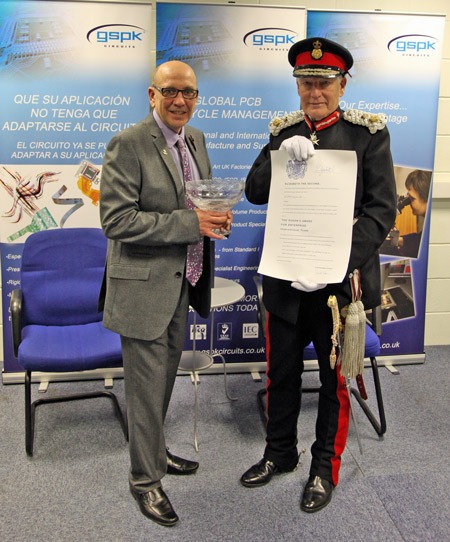 GSPK Circuits are a Printed Circuit Board manufacturer who have been serving the local community for 50 years. Their international reach has extended steadily over the past 5 years culminating in their receiving this prestigious honour of the Queen's Award for International Trade.
Despite the current economic situation the company, as part of the TCL Group, has maximised its operations to provide comprehensive sales and manufacturing services through their national and international branches, recently opening a new factory to cover the Americas. Their experience and expertise are recognised within the industry and upheld by their TS16949 accreditation and their longevity is a notoriously transient industry.