As a statement of intent no-one could have doubted that Rock Up and Sing! were enthusiastically ready to rock up at the Royal Hall, Harrogate on Sunday evening in what can only be described as a powerful, passionate and slick showcasing of this dynamic and high-profile local choir.
Scene of their first sell-out success back in June 2010 Sunday's concert at the prestigious Royal Hall was an eagerly awaited second charity gig for Parkinson's UK and the packed audience were entertained to an eclectic and mixed repertoire of rock and film classics including seasoned favourites such as Proud Mary and Coldplay's Viva La Vida.
Musical Director and founder of Rock Up and Sing! (now boasting 440 members across 5 distinct choirs in the family), Rhiannon Gayle, said:

Rocking Up to the Royal Hall feels like coming home – it is always an amazing experience and something we look forward to immensely – I am incredibly proud of my wonderful choirs.
There was something for everyone in this engaging and heart-felt concert with performances ranging from rousing, upbeat and energetic, such as Let the River Run and Eye of the Tiger (with Richard Dunn, only Yorkshire opponent of legendary Parkinson's sufferer Muhammad Ali, in attendance), to soulful and heart-rending, such as Mamma Mia's The Winner Takes It All and the rather dark Theme from Alice, so poignantly and professionally performed yet again by this popular choir. It is no surprise that Alice's Theme earned Rock Up and Sing! a First Place with Distinction Award at the Festival of Music Speech and Drama last year, along with the pitch perfect a cappella song Harriet Tubman!
It is not difficult to see how choir members, from all walks of life, are thriving under the expert coaching of their highly qualified, experienced, inspirational and fun-loving Musical Director, Rhiannon Gayle. Performing a cappella only serves to highlight the exquisite sound and skill in this choir's performance.
On a lighter note, the youngest choir in the family, KidzRU, gave a sterling second-only performance along with the adult choir, bringing a touch of fun and 'thrilling mayhem' to the proceedings. The confident stage presence, and exciting contribution to Lion King songs Circle of Life and Hakuna Matata, were quite simply mesmerising! Later there was even some audience participation as choir members came down to the audience and the Royal Hall rafters rang to the tune of Abba's Dancing Queen!
Other highlights included a heart-stopping performance of African song Baba Yetu (Swahili for the Lord's Prayer). Sung along with the choir's own recording from Abbey Road Studios last year, with soloist Christian Lunn – there in spirit and voice, if not in person, as he was busy performing in London's West End. Other soloists performing on Sunday included Alex Ellis, Sorrel Brown and Natalie Farrell.
Audience and choir alike were also extremely delighted to welcome Emmerdale Actor, John Middleton, back into the fold as he reprised his impassioned and rather scary solo voiceover in Michael Jackson's Thriller, last seen at the choir's 400 Voices concert at the Harrogate International Centre last July. John says, "It has been a pleasure performing again with this amazing choir, and a wonderful experience for me to be part of such a fantastic concert at the Royal Hall".
Drawn from its own members, Rock Up and Sing For You, the bespoke Wedding & Special Events choir, showcased some of their repertoire, beautifully performed their own soulful version of Adele's To Make You Feel My Love, and other very enjoyable upbeat numbers such as Hawaii Five O and Spiderman!
Last Autumn this same concert by Rock Up and Sing! raised nearly half of the annual fundraising in the area for Parkinson's UK – it is not hard to see why they were asked back again this year, and there can be no doubt in anyone's mind that Rock Up and Sing! truly rocked the Royal Hall once again!
For more details about Parkinson's @parkinsonsUK.
For more information about Rock Up and Sing! @rockupandsing www.rockupandsing.com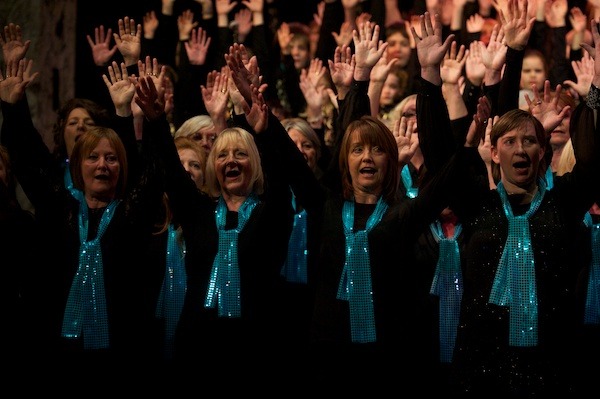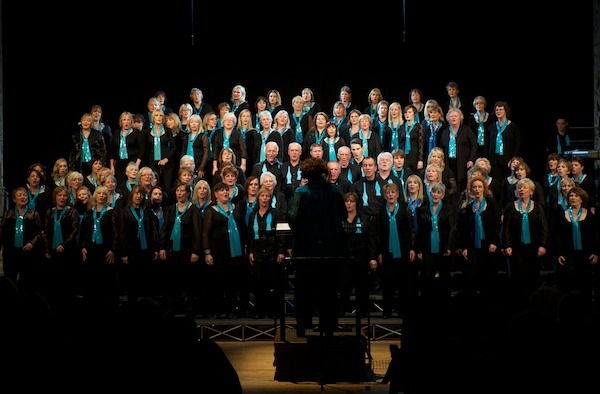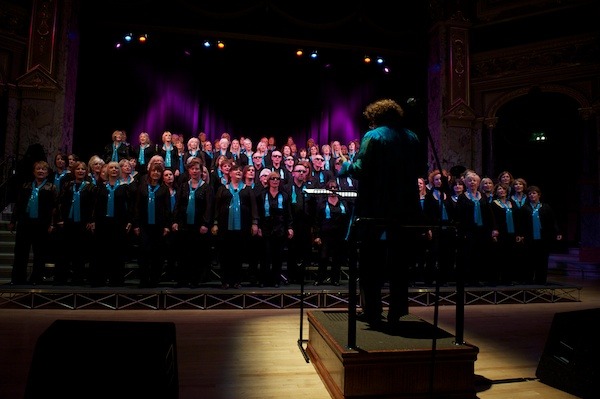 Harrogate Photography by Timothy Cook