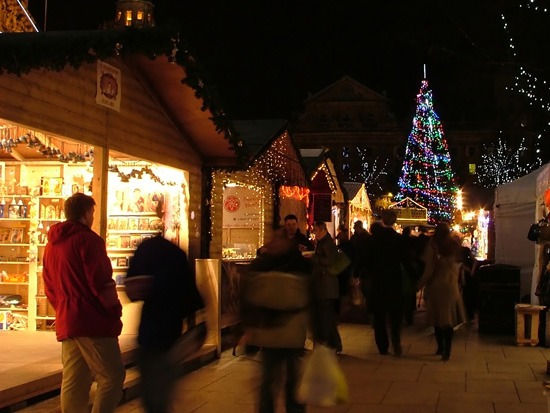 The Harrogate Christmas Market organisers have taken a decision to ban food stalls where the food is for consumption at the market.
Over 100 stalls have already been booked of a retail nature only, offering items such as jewellery, jams, pashminas and pork pies.
Being unable to browse and eat typical Christmas
fayre could prove a big disappointment for visitors. For many, being able to enjoy food at a market such as this is would be the main reason for going –  organisers run the risk of people leaving unhappy.
Although the organisers say it is aiming to compete with established Christmas Markets in other towns such as Bath, Lincoln, Nottingham and York, they offer food for that can be eaten during the event.
The four-day Harrogate Christmas Market is being billed as a high quality, up-market event with a Yorkshire and Harrogate theme, with the  aim of attracting more visitors to Harrogate to see the Christmas Lights and enjoy the town centre's shopping facilities.
The Market will run from Thursday 22nd November to Sunday 25th November 2012 and will coincide with the switch-on of the Christmas Lights.
There will also be a Children's Funfair, Santa on his sleigh with real live Reindeer and a full programme of Christmas music from local schools, choirs and bands.
The Christmas Market will comprise a array of decorated chalets, mini-marquees, market stalls and outdoor stalls plus a large Craft Marquee with hand-made gifts of all types.
The location will be at the bottom of Montpellier Hill opposite the White Hart Hotel, where coaches drop off during the summer. During this event the coach drop off will be on West Park at the Pier Head, near Bettys, with the pick-up at the bottom of Montpellier Hill.
The Market is being organised by the Harrogate Chamber's trading company Yorkshire Business Market Ltd.
Chamber Chief Executive Brian Dunsby said:

Over 50 Coach Operators are bringing groups from all over the North of England and the Midlands for the combined attractions of the Christmas Market, the Christmas Lights, Knitting & Stitching Show in the HIC, and Woodworking & Power Tool Show at the Pavilions – as well as enjoying Harrogate's spectacular Christmas Shopping and Celebration packages. Shop and celebrate locally!
The Harrogate at Christmas Group has now been running for three years under the Chairmanship of Councillor John Fox.
Councillor John Fox said  who said:

We decided that this year we are not having food and drinks stalls to encourage visitors to use local cafes.

The aim of the Market is not to take business out of the town centre, but to bring many more people into the town.

Extra Christmas lighting will be provided up Montpellier Hill to provide an obvious link for Market visitors to and from the town centre. A shuttle bus service will also operate frequently between the Christmas Market, the Bus and Rail Stations and town centre shops.