Once seen as a pastime solely for the elite, opera has since proven itself a rich source of approachable and theatrically compelling works. This has never been more the case than with English Touring Opera's current roster of touring productions, which comprises: Peter Maxwell Davies' thriller The Lighthouse, Benjamin Britten's social comedy Albert Herring and astonishing dark comedy The Emperor Of Atlantis, composed by Viktor Ullmann in a Nazi concentration camp in 1944.
The three operas, performed one each night over ETO's three-night stay at Harrogate Theatre and led by the Aurora Orchestra (recently heard accompanying Wallace & Gromit at the BBC Proms), couldn't be more different. Albert Herring is a village comedy with a sophisticated score, The Lighthouse an atmospheric, psychological thriller and The Emperor Of Atlantis an arresting comedy whose genesis in such extraordinary circumstances makes it undeniably important.
Britten's satire Albert Herring (Harrogate Theatre, Thursday 1 November) is the tale of a shy local lad elected as May King when the village girls fail to come up to snuff as May Queen. Unused to the attention, our titular hero goes on what can only be described as a bender, with hilarious consequences. Christopher Rolls directs, with much-lauded conductor of Britten Michael Rosewell wielding the baton.
Maxwell Davies' The Lighthouse (Harrogate Theatre, Friday 2 November) is a brilliant thriller following the true-life disappearance of three lighthouse keepers one foggy Christmas and not necessarily what you'd expect from a night at the opera thanks to Maxwell's brilliant, tour–de–force ending to an evening of suspense. Young American Theodore (Ted) Huffman directs, and Richard Baker conducts.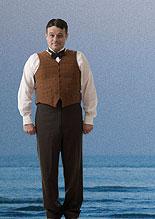 ETO's final project for autumn 2012 is perhaps the most intriguing. In 1944, in a Theresienstadt, a Nazi concentration camp presented as a model Jewish settlement to outsiders, Victor Ullmann created an extraordinary opera. It was first rehearsed by inmates of the camp, all of whom, along with Ullmann, perished when transported to Auschwitz before the premiere. That scheduled first performance at Theresienstadt was cancelled, but not before some enterprising soul had smuggled the score and libretto out of the camp.
Despite its tragic origins, The Emperor Of Atlantis (Harrogate Theatre, Saturday 3 November) is a sharp black comedy in which Death, appalled by the mass killing in a modern war, goes on strike. It soon becomes clear that not being able to die is unbearably strange. The opera has been acclaimed in performances around the world as an extraordinary testament to wit and humanity in the face of barbarity. Ullmann's quirky orchestra – presumably what was available at the model camp – including banjo, saxophone and accordion.
This jazzy little opera is paired with a church cantata of Johann Sebastian Bach, Christ lag in Todesbanden (Christ Lay in Death's Grip).
Tickets www.harrogatetheatre.co.uk