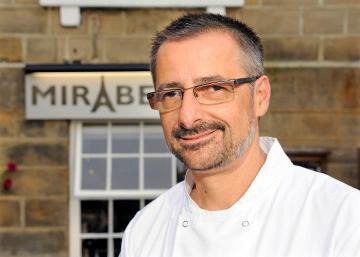 A Harrogate chef has launched a cook book and memoir, Alsace to Yorkshire – the Making of a Passion.
Mirabelle owner Lionel Strub has written a frank account of a troubled childhood and the kitchens that have inspired him, alongside some of his favourite recipes that combine modern French and British cookery.
The book charts the painful, but ultimately inspiring journey of a misunderstood child who finds happiness and a sense of belonging in restaurant kitchens in his French homeland and later in England, at a time when British cuisine was poised for worldwide recognition and acclaim.
Lionel says:

This book is a result of 30 years working in kitchens. From Alsace to Yorkshire is a colourful and unique blend of two countries only separated by 33 miles of water.

Two countries so very different, but as far as food is concerned we have found ways of sharing a common language.

People often ask me if I would ever go back to Alsace and the answer is I have found the best of both worlds. A place in Alsace or a place in Yorkshire? I simply wouldn't know how to choose between them.
When Lionel arrived in his adopted home of Yorkshire in 1989 to take up a position at La Grillade in Leeds, he had already worked at Michelin star level in France, under the tyrannical but brilliant Jean Pierre Cotard.
Whilst working for the inspirational Guy Martin Laval at La Grillade he acquired the necessary financial and business skills needed to realise his ambition of owning and running his own enterprise.
During early 2011 customers at the recently opened Mirabelle Restaurant, Harrogate began to spread the word on a new and exciting dining experience.