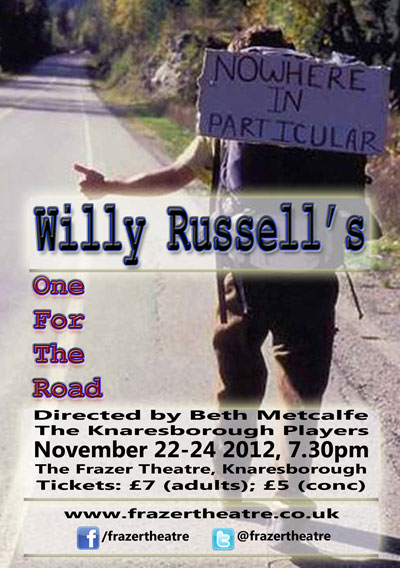 The Knaresborough Players are holding open auditions at the Frazer Theatre in Knaresborough, for the November production of "One For The Road" by Willy Russell.
Show Dates: Thursday 22nd to Saturday 24th November 2012
Director: Beth Metcalfe
Audition Date: Tuesday 4th September 2012
Audition Time: 7.00pm
Location: The Frazer Theatre, High Street (behind Tesco), Knaresborough, HG5 0EQ
Play Overview:
'One For The Road' is a moving comedy which observes a middle class family celebrate a 40th birthday party.
The cast of four characters are all on stage throughout the play, and are completely dependent on one another. The characters are in the thirties to fifties age bracket.
Audition Information:
Beth will be giving out an over view of the play, and a short talk to get things underway. Beth hopes to be able to cast the play that night.
If you have any questions, you are invited to contact Beth at: OneForTheRoad@FrazerTheatre.co.uk
Additional Information:
Rehearsals: Commencing Tuesday 11th September 2012.
There will be weekly rehearsals on Tuesday and Thursday evenings.
Roles:
Dennis, who is turning forty, is the most down-to-earth character who wants to get out of his everyday lifestyle and hitch hike around the world.
Pauline, Dennis's other half, sees herself as very superior and determined to make the birthday party perfect for her guests. She follows the trends set by the estate where they live, and wants others to see her as a great asset to the community.
Jane is the estate's 'queen bee'. She is the leader of many groups and is well known as a simply perfect member of the community. She is strong minded, loud and very self-centred. She views Pauline as a follower rather than a friend.
Roger is Jane's 'devoted' husband who spends his time reading the paper, working in the garden and shopping. He sees himself as a very significant member of the friendship group.