Tickets go on sale on Tuesday 21 August for the Harrogate International Festivals inaugural Young Musicians Autumn Series, working in partnership with Live Music Now.
Sharon Canavar, CEO of the Festivals, said:

We deliver outreach programmes all year round but most people only know of us for our summer activity. Autumn is such a beautiful time of year so it seemed fitting to deliver an elegant programme of musicians, with tomorrow's next big things in classical, folk, jazz and world music.
The debut season promises to add a little mid-week magic to autumn with all events taking place on Wednesday evenings at 7pm in the heavenly surroundings of Harrogate's Wesley Chapel.
Sharon added:

The Festivals' Young Musician Series has helped launch the careers of many of today's iconic musicians, providing a platform for Lesley Garrett and Julian Llloyd Webber amongst others before they found fame. We're really proud of that, and it's a great opportunity for Harrogate to witness the next cohort of national talent on the brink of big things.
The next generation of stars featuring in the Autumn Series offer to take you on a musical journey from the enchanting harp music of Anneke Hodnett to the 'demon banjo and harmonica playing' of folk duo Will Pound and Dan Walsh. The programme also plays host to Jazzwise's first choice for new talent Katie's Allsorts, and the exceptional, award winning Jacquin Trio. The season closes with an injection of 'infectious energy' from the Musala Trio.
Full programme details: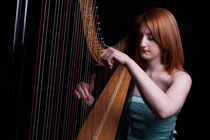 Anneke Hodnett
Wednesday 26 September, Wesley Chapel, 7pm, Tickets: £10
Anneke Hodnett emerged from London's grand history of nurturing young classical musicians after studying at the Guildhall School of Music & Drama and the London Symphony Orchestra String Academy. A committed chamber musician, she now performs with her flute, viola and harp trio alongside larger ensembles – most recently recording with the BBC Symphony Orchestra.
Hodnett presents a thrilling tour of harp music to open the series, with a programme that spans the centuries from 17th century Bach to 21st century Flothuis, and spans the world from England, Europe to South America – the perfect start to the new season.
Folk Duo: Will Pound & Dan Walsh
Wednesday 3 October, Wesley Chapel, 7pm, Tickets: £10
Will Pound- 'one of the most original harmonica players in Britain' – was nominated as BBC Radio 2 Folk Musician of the Year in 2012. Alongside Dan, 'the UK's top Clawhammer banjoist', this folk duo is already a hugely successful partnership. The duo deliver a programme featuring the Eastern flavoured 'Turkish Delight', funk and bluegrass hits, and Irish jigs and reels, alongside their own original songs – definitely not to be missed.
Katie's Allsorts
Wednesday 10 October, Wesley Chapel, 7pm, Tickets: £10
Young, vibrant, eclectic – this trio travel a unique musical highway, stopping off via Frank Zappa, with a dabble of rock and roll, pop, funk, country and even Latin vibes. The trio met at Leeds College of Music and features Katie Patterson on drums, Peter Gavin on bass, and Aron Kyne on piano. Young in years and in spirit, their playing has already been praised for its 'liquid quality' bursting with ideas and inspiration. Catch them in Harrogate while you can.
Jacquin Trio
Wednesday 17 October, Wesley Chapel, 7pm, Tickets: £10
These young musicians joined forces at the Royal College of Music in 2009, and they have since gone on to win the Douglas Whittaker Ensemble Prize in 2010 and the St Martin-in-the-Fields Chamber Music Competition 2012. They are current Live Music Now Scheme Artists for 2011-13 and have been short-listed for the 57th Annual Park Lane Group concert series. The trio is in demand across London as composers queue up to write works for them thanks to the exquisite combination of clarinet, viola and piano, now this is Harrogate's chance to experience their outstanding talent.
Musala Trio
Wednesday 24 October, Wesley Chapel, 7pm, Tickets: £10
The Musala Trio, an outfit made up clarinet, guitar and accordion take familiar, accessible tunes and make them exotic and new, highlighting the threads that run through these eclectic musical languages.
Join the Musala Trio as they explore their unique interpretations of a range of traditional music from around the world including the rachenitza, gankino and makadonsko from Bulgaria, Roma music from the Balkan states and mornas from Cape Verdian singer Cesária Évora. A triumphant close to Harrogate International Festivals' first Young Musicians Autumn Series.
Tickets on sale Tuesday 21 August: Box Office: 01423 562 303. Series subscribers enjoy a 10% discount when booking for all five concert. Series subscription £45
To find out more visit: www.harrogateinternationalfestivals.com