North Yorkshire Police is proving to be at the forefront of social media in world policing after two officers were nominated for international awards.
PC Ed Rogerson and Special Constable Tom Stirling are both in line to be recognised for their efforts to engage with the public through new technologies at the ConnectedCops Awards in America next month.
They have both been selected for the Leadership Award and are joined by three other nominees, an officer from Hampshire Police and two officers from police forces in Canada.
The award is given to an individual officer up to and including the rank of sergeant at a worldwide law enforcement agency, who has demonstrated exemplary leadership in using social media to improve public safety and enhance the engagement or reputation of their organisation.
The award will be presented at the Social Media the Internet and Law Enforcement (SMILE) Conference in Richmond, Virginia in September.
PC Rogerson, who is based in Harrogate, is widely recognised as the first officer in the UK to use social media for community engagement. His use of YouTube and Twitter is often held up as an example of best practice and he regularly gives talks at conferences about his use of social media in policing.
PC Rogerson said:

North Yorkshire Police has led the way in the use of social media for community engagement. We were the first Force to conduct online community meetings and the first to use YouTube, Facebook and Twitter for this purpose. It's an honour for me just to have been nominated for this award, let alone being announced as a finalist.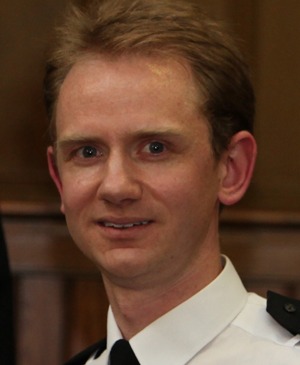 SC Stirling, who is also the Force's New Media Officer, has been nominated for his work to design the UK's first mobile police app for smartphones, giving people easy access to news and updates from their local Safer Neighbourhood Team. He produced the app at no cost to the Force.
SC Stirling said:

I'm really pleased to have been shortlisted, and it's great that North Yorkshire Police has two finalists in these prestigious awards. The nominations reflect the hard work that goes on across the Force using new technology to help us engage with our communities. We have lots of exciting plans for the future, and we will keep innovating to make sure this engagement goes from strength to strength.