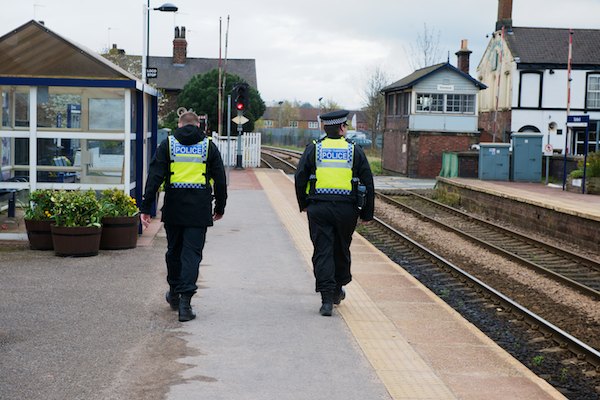 British Transport Police are becoming increasingly concerned that someone is going to get seriously injured following a number of recent incidents of trespass and disorderly behaviour at Knaresborough railway station on a weekend.
Police Constable Nick Storey British Transport Police said:

We are receiving an increased number of reports from rail staff at the station that groups of men, who we believe have been drinking in the town centre throughout the day, are then going to the station to catch the train and are acting in a drunk and disorderly manner, running across the tracks and climbing on the railway gantry's.

The most recent incident was reported to us on Saturday 21 July at 19.55, and involved a group of between 10-12 men, all aged in their 20's, running across the tracks to the York bound platform. One the men unbelievably then stopped on the tracks while he made a phone call.
The group then left the station and made their way to a nearby pub only to be turned away. They then returned and began hassling a young male and female on the platform.
One of the men is alleged to have pulled down his trousers and pretended to defecate off the platform onto the tracks , he then proceeded to climb up the railway signal gantry, raised his arms above his head and jeered.
A member of rail staff at the station then contacted police but the group had already left the station onboard the 20.14 service to York.
The man has been described as white, aged approximately 27, 6ft tall and of an athletic build He had white blonde collar length hair with a dark dyed strip from the back of his hair to the front. He was wearing knee length camouflage style shorts and white trainers. He is believed to be known as 'Leon'.
Police Constable Nick Storey added:

We do not want to spoil people having a fun night out but this behaviour is now crossing the line and passengers and staff at the station are being intimidating. We are obviously also concerned that someone is going to get seriously hurt and it is only a matter of time before we have a major incident on our hands due to the reckless behaviour of some.

We have increased patrols at the station and made anniversary visits. We are speaking to residents in the local community and in local pubs, but would also like to hear from anyone who may have witnessed this or a similar incident, or who may recognise the man described

We do not want to ruin a day out for people, but we have to consider the safety of all rail passengers and staff. We take a dim view of anyone who carries out criminal or anti-social behavior and we will not hesitate to take action against anyone who behaves in a problematic manner and will prosecute anyone that does so. They can be banned from traveling on the rail network and will receive a criminal record which may affect their employment. Is it worth it for a few hours drinking?
Anyone with information is asked to contact British Transport Police on 0800 405040, quoting log 587 of 21/07/2012. Information can also be given anonymously through Crimestoppers on 0800 555111.