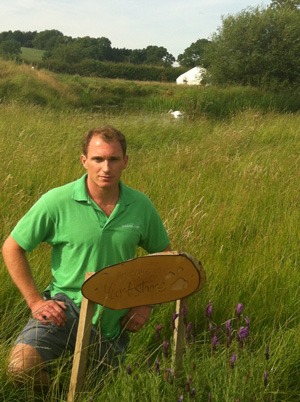 A new sustainable 'Glamping' experience called 'Yurtshire' has just opened in the Village of Markington, nestled between Harrogate & Ripon.
Tom Sterne Owner of Yurtshire was a general practice Chartered Surveyor specialising in the sale of commercial and residential development sites. He was made redundant in the peak of the credit crunch in 2009 at which point he decided to go travelling. During his travels he was inspired to setup his own luxury camping experience in the UK following a safari trip to the Masai Mara in Kenya.
Tom said:

They have really mastered the art of luxury camping on safari holidays with some amazing 5 star tented lodges. Having loved camping and the great outdoors I instantly fell in love with the little round houses called yurts and  I thought they were they would be perfect for the UK market. As well as being extremely beautiful the yurts are practical and warm with the wood burning stoves. There is also something enchanting about being inside a round yurt at night.
The new site in Markington is home to three beautifully handcrafted Yurts, located in a peaceful haven overlooking a small lake with it's very own resident swans. Tom has gone to great lengths to deliver a high end luxury camping experience.
The site has been carefully selected and created with minimal disturbance to the natural habitat and beauty. Positioned in a picturesque meadow with plenty of living space between each Yurt. Guests can escape the everyday 'rat race' and relax in the elegantly furnished Yurts which come complete with comfortable beds and futons, Egyptian cotton bedding, throws, sheepskin rugs and everything that's needed for a 'posh camping' experience.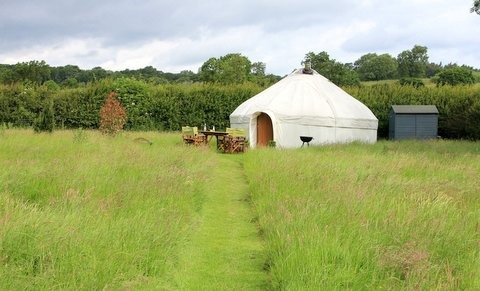 Tom added:

At the heart of Yurtshire is the ethos of natural 'off grid living', our Yurts do not have electricity. Lanterns, candles and torches are provided and together with the warm glow of the wood burning stove, fire pits and barbeque it all adds to the romantic ambience and truly magical experience of staying in a yurt.
The Yurts are available to hire during April – October
Visit www.yurtshire.co.uk for more information.