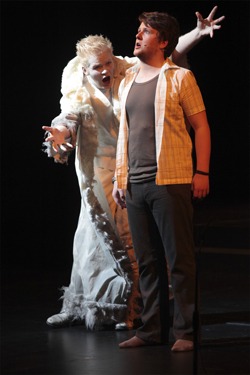 Boiling Frog, the ambitious new musical by first-time writer and Harrogate man, Keith Humphrey, is to appear at the York Grand Opera House on 11th August.
Having premiered to standing ovations at Harrogate Theatre last year, Keith pays homage to the overwhelming support he received from the local community and says it has encouraged him to take this leap of faith to the neighbouring city.
Keith said:

I was nervous last year, it was the culmination of seven years of work and I had no idea how it was going to be received.

But seeing each performance at almost full capacity and the humbling reaction Boiling Frog received from the audience, has given me the confidence to pursue the dream take the show to York.
Keith has spent 6 months re-working Boiling Frog. The story curves are more distinctive and dramatic, the songs and lyrics have been revised and the choreography story flow sharpened. These changes have been enriched by a new Director, Robert Readman (York Stage Musicals) and choreographer, Sam Hesketh, in the second run of Boiling Frog showing at the York Grand Opera House.
Billed as 'the musical of our time', Boiling Frog is set in modern day Yorkshire and explores a tale of love, family, separation, desperation and hope. Lewis, a contented family man, finds himself thrown into a life he no longer recognises after his wife announces that she wants a divorce. Trying to adjust to being a single man and part-time dad to three confused children, Lewis indulges in the excesses of alcohol and women to try and soothe the stress and strain of his new life. With a mysterious tormentor shadowing his every move and deteriorating health, Lewis falls into a dark place where even his family struggle to reach him. Apart from that is, his mysteriousreticent Daughter, Daisy.
 Keith added:

Most people have been affected by a divorce or separation in one way or another and will recognise and relate to the characters and action in Boiling Frog.

The tale is emotional, humorous, distressing and uplifting at times, but always entertaining!
The 20-strong cast is a talented blend of youth and experience, most notably featuring award-winning Christian Lunn as the enigmatic 'Twelve', Edward Leigh as tormented Lewis and Jake Abbott (Gavroche in the 25th Anniversary Tour of 'Les Miserables' and Leo in The Go-Between) as his son, Joe.
Hailed last year by the Harrogate Advertiser as a "thought provokingly rollickingly good show", Boiling Frog is the debut production by Humruddy Productions, founded by Keith to bring new musical theatre 'from the page to the stage'.
Tickets for the two performances on Saturday 11th August are available at www.atgtickets.com. For further information visit www.boilingfrogmusical.com