A Harrogate health and fitness club is throwing its weight behind a sponsored slim by two hospital radio DJs.
Shaun Gill and Scot Wall, Harrogate's Dieting DJs, have lost a combined weight of 38lbs in the last four weeks as they hope to raise £3,500 for Harrogate Hospital Radio, which this year celebrates its 35th anniversary.
The pair, who have already secured donations of more than £1,600, are being helped in their quest by staff at Nuffield Health and Fitness, on Hornbeam Park.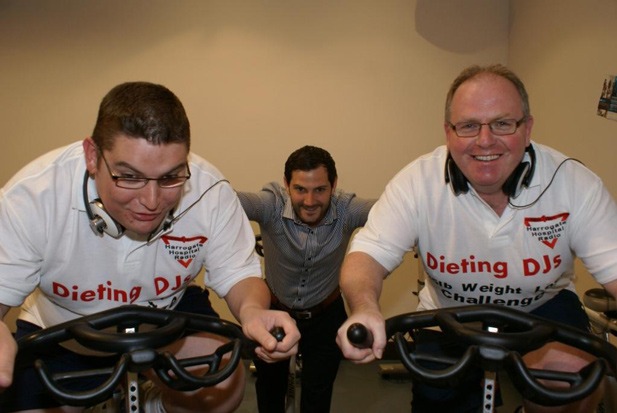 In addition to devising personalised training plans for Scott and Shaun and weighing them weekly, the club is donating free passes as an added incentive to encourage people to sponsor them.
Anyone donating £10 will receive a day pass worth £15; £20 they get a three-day pass and £35 a week-long pass.
Scott said:

We are very grateful to Nuffield Health and Fitness for their continued support. Without them, I'm not sure we could have reached even this stage.

Giving each person who sponsors us a tenner or more a free pass is an incredibly generous gesture, and I hope this will lead to a good number of people sponsoring us.
Shaun said:

After losing 38lbs between us, the hard part is just beginning. We couldn't have achieved it without the help, guidance and support of the Nuffield team. I'm confident we can do it.
Nuffield Health & Fitness club manager Tom Graves said:

We like a challenge too, and Shaun and Scott are certainly that.

We are really impressed with their dedication, and we wish them every success in raising money for this superb local charity.
Donations can be made to Shaun and Scott at www.justgiving.com/dietingdjs. Alternatively, donations can be made by texting "DIET99" and either £2, £3, £5, £10 to 70070.If you want to find out more about the dieting DJs- follow on Twitter (@dietingdjs) and Facebook at Dieting DJs.
For more information about the charity radio station and the work they achieve; please contact the station on 01423 553 342