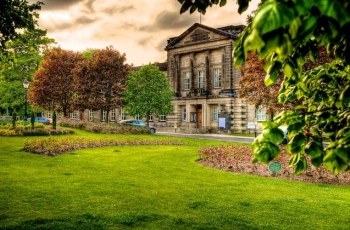 Recommendations made to highway authority North Yorkshire County Council to re-model Harrogate's Station Parade and Parliament Street have not been supported by Harrogate Borough Council's new Cabinet Member for Planning, Transport and Economic Development.
The county council recently wrote to the borough council inviting comments on the options for using the remaining £1.4m of Service Centre Transportation Strategy funding allocated to Harrogate and Knaresborough.
Borough Council Cabinet Member, Councillor Alan Skidmore, says that, whilst not supporting the re-modelling of these two major town centre roads, he is supportive of the proposals for a full traffic signals health check in Harrogate.
Councillor Alan Skidmore added:

I am delighted that the county council has given us a new opportunity to influence how this £1.4m can be spent. The plans presented to the county council, which would have seen a narrowing of the carriageway on both north and south bound legs of the A61 through Harrogate Town Centre, have not been well received. I am strongly recommending that investigations be undertaken between the two authorities to establish whether the money can be added to recent government grants for sustainable transport and monies from car parking income to deliver some alternative proposals.

The two councils will be getting together to develop proposals that will benefit all sectors of our community and we will be very much concentrating on reducing traffic congestion in the town centre.