A team of four students from Rossett School in Harrogate were named overall winners in this year's Umph! business and enterprise competition, which took place at the Galpharm Stadium, Huddersfield, on Tuesday 3 July.
The winning team was made up of four year- 12 A-level business studies students, Liam Saville, Sophie Helsby, Lauren Oliver-Walsh and Andrew Hastings.
Over a hundred 16-19-year-old budding entrepreneurs from schools and colleges across Yorkshire took part in the competition, which saw teams of students pitting their business wits to win the title. Using SimVenture business simulation software, as well as giving presentations and being tested on their business knowledge, the contestants were put through their paces by a judging panel that included business experts from organiser Grant Thornton.
During the day-long competition, the contestants received input and advice from a line-up of ten successful entrepreneurs from the region, including Huddersfield Town chairman and Card Factory founder Dean Hoyle and chief executive of Leeds-based online sports network Pitchero, Mark Fletcher.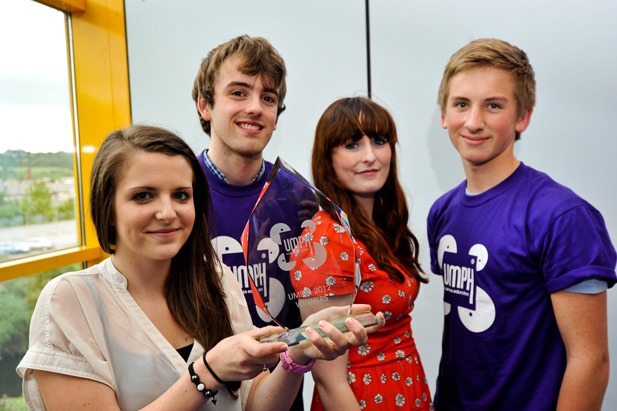 The entrepreneurs worked closely with the students, giving the youngsters the benefit of their own knowledge and experience in business in intimate workshop-style sessions.
Winning team member, Andrew Hastings, said:

The entrepreneurs were totally inspirational. I think we all feel today's event has given us something to aim for as well as a better understanding of how business really works.
Sandra O'Neill, head of business development at Grant Thornton said:

The winning team really impressed us with their business nous and enterprising attitude, and it was clear that they had gained a lot of first-hand expertise from their sessions with the entrepreneurs throughout the day. Solving real life business problems gives an important extra dimension to the students' knowledge and academic learning.

Times are tough for school leavers in this economic climate, with rising youth unemployment and costly university fees taking their toll. We're passionate about nurturing and inspiring young enterprise and innovation in young people, who are vital to the economy of tomorrow."
The competition is part of Grant Thornton's Educate to Innovate programme, which aims to encourage entrepreneurialism and forge links between businesses and education in the region.
Huddersfield Town Football Club, SimVenture, Dickinson Dees, Fantastic Media, Kirklees Council and Huddersfield University also supported the event.
For more information on Umph! Go to www.umph.uk.com