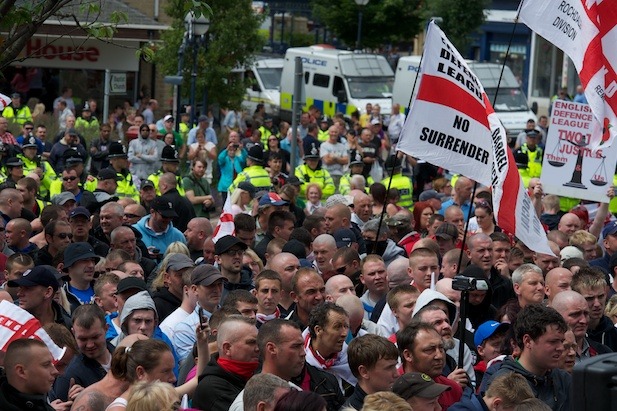 Following the relatively peaceful passing of static demonstrations by the EDL and UAF/TUC in Dewsbury this afternoon (30 June 2012), Kirklees police Divisional Commander, T/Chief Superintendent David Lunn has thanked partner agencies, the organisers of the demonstrations and the people of Dewsbury.
CS Lunn said:

We are pleased to say that today's events have passed without incident and that disruption to Dewsbury was kept to a minimum, with the Town returning to normal as soon as possible.

I would like to thank the community, our partners in the council and other agencies and the event organisers themselves, with whom we have worked tirelessly to ensure the safety and wellbeing of all concerned throughout the day.

Approximately 450 EDL demonstrators attended, along with approximately 50 counter-demonstrators, mainly from the UAF and TUC. There have so far been five arrests for minor incidents.

I am very proud of the community response to today's events. This helped enable the protests to pass peacefully, safely and without serious incident.

The feedback we have received from the public and local businesses has been very favourable, which is pleasing as they have always been at the forefront of our considerations as we planned the response to today's events.
The protest saw a high police presence with EDL protesters being met and searched at Dewsbury train station before being escorted to one of two pubs as the groups congregated. They were then escorted to the square in front of the town hall where there were a number of speeches.
There were a few relatively minor scuffles but the West Yorkshire police facilitated the demonstration well.