A "pint-sized" Tour de France charity bike ride – sponsored by T&R Theakston Ltd – has raised £5,000 for local, regional and national charities.
More 100 cyclists took part in the annual Lower Dales Circle Charity Bike Ride, which saw them peddling 22 miles from the start point at The George at Wath.
Organised by Chris Wade, from the Milbank Arms at Well and Kris Stephenson of the Freemasons Arms at Nosterfield, charities to benefit were the Great North Air Ambulance, Ovarian Cancer Action, British Heart Foundation, Help For Heroes, Tommy's Kids with Leukemia, Macmillan Nurses, Cancer Research and Alzheimer's.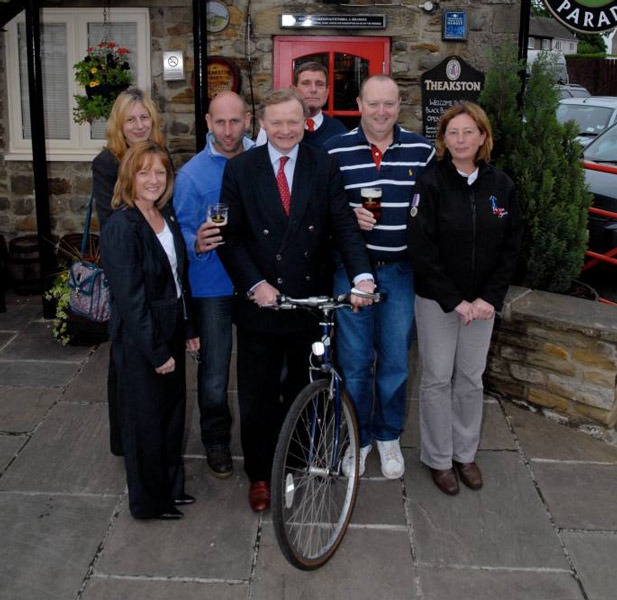 A number of representatives from the charities attended a presentation evening at T&R Theakston's Visitor Centre, Masham, where they met organisers, cyclists and members of the Theakston team.
Chris said:

I'd like to thank everyone who took part, and in particular Theakston's for not only sponsoring the ride, but also for hosting this presentation evening.

This was our sixth annual ride, and plans are well under way for the seventh, which will hopefully take place in September.
T&R Theakston Ltd Executive Director Simon Theakston, who was part of "Team Theakston", said:

This really was a superb charity bike ride and I am delighted to have been involved with it as both a participant and a sponsor.

It was our pleasure to host the presentation evening and meet the representatives from the various organisations we were helping to benefit. All do invaluable work in and around the area, and it's full marks to Chris and Kris for organising the ride and making it the success it was.