Platoon Sgt Spencer John Davies (Taff) completed his 24 hour challenge today (23 June 2012) covering an incredible 125.4 miles.
The challenge started from Tewit Well at 2pm yesterday, with Taff speed marching and running circuits around the Harrogate Stray while carrying a 15kg backpack in army attire.
Covering 125.4 miles is a distance equivalent to walking to Birmingham from Harrogate and at times in very unseasonal, heavy rain.
Taff said:

The last 8 hours were really evil with blisters and swollen shins.

I hit the wall 4 times and at one time was hallucinating that a lamp post was a dog. Having support helped me pull through the low points though.

I am raising money for Help for Heroes, Cancer Research UK, Diabetes UK and NSPCC. All the charities have meaning to me. I lost comrades in my recent tour of Afghanistan, my wife is diabetic and like many, have lost friends and family with cancer.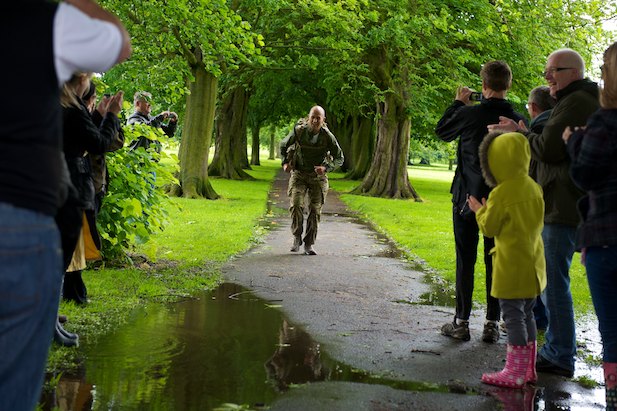 For more information about the event or to donate please visit www.taffs24hourchallenge.com