As Lord Sugar and his new business partner ride off into the sunset together, a local charity has challenged local groups to prove that they have the best business brains in the Harrogate district.
Saint Michael's this week launches its 'You're Inspired' charity challenge where teams are invited to use their entrepreneurial nous, along with a £100 cash 'loan', to raise as much money as possible for the charity during the month of October.
Based on BBC1's The Apprentice, the teams of local businesses, groups and organisations will be given four weeks to undertake their own fundraising activities before returning to the Saint Michael's boardroom in the hope of hearing the words; 'you're inspired!'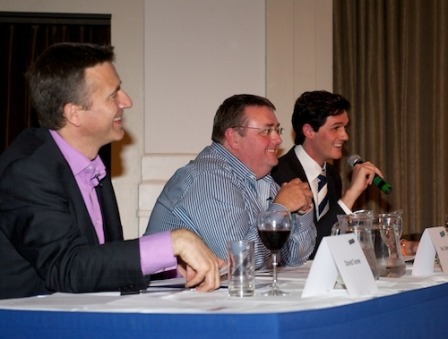 Last year's final: David Turner, group marketing director from event sponsors Unit 4 Business Software, Saint Michael's chief executive Tony Collins and Leon Doyle, star of BBC1's The Apprentice
This year's The Apprentice, where contestants battled to avoid hearing Lord Sugar bellow the words 'you're fired', featured a string of business gaffs and local groups will be keen to show the budding TV entrepreneurs how it's done.
Tony Collins, chief executive of Saint Michael's, said:

You're Inspired returns once again this year to find the business or group with the most creative and successful fundraisers in our local community.

Last year our competitors raised more than £28,000 for Saint Michael's and it proved to be a fantastic way of team-building for the participating groups and the awards night was brilliant entertainment.

You're Inspired is a fast paced, competitive and fun event that teams can really get their entrepreneurial teeth into and we want as many local groups as possible to sign up this year.
Contestants will have the whole month of October to maximise the return of the £100 loan.
Last year saw some highly creative ventures, including a team that lived in a shop window for a week and a calendar that recreated the most iconic images of the last century, that raised vital funds for Saint Michael's, the charity providing specialist care and support for local people living with terminal illness and bereavement.
You're Inspired is again sponsored by Unit 4, the Harrogate-based finance systems specialists.
Teams registering before Tuesday July 31 will enter the challenge for free. Registration costs £20 per team after July 31 and closes on Friday September 14.
To register a team or to find out more please contact Saint Michael's on (01423) 879 687.