Students from a North Yorkshire-based gardening charity have linked up with pupils at Belmont Grosvenor school to create a new Cherry Tree Way to celebrate the Queen's Diamond Jubilee.
Sixty years ago, school children from across the district helped plant Harrogate's famous row of cherry trees on The Stray, called Milton Way, leading from Leeds Road to West Park, to mark the Queen's coronation.
Now pupils at independent prep school Belmont Grosvenor, based at Swarcliffe Hall, Birstwith, with the help of students from Horticap, have planted their own Cherry Tree Way, along the driveway leading to the school, as part of their own Diamond Jubilee celebrations.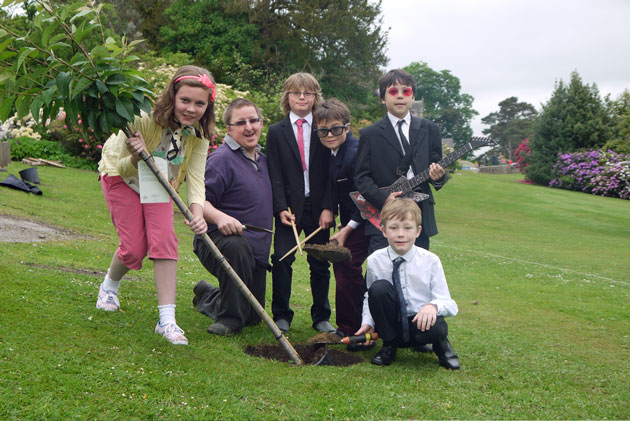 From left, Alicia Kernaghan, charities prefect at Belmont Grosvenor School, with 'The Beatles" Kit Keith, 9, James Ogden, 9, Callum Young, 9, and James Marsden, 9, with Horticap student Simon Wiltshire, planting one of the six cherry trees in the school grounds
Pupils and staff came to school dressed in clothes to mark the six decades of Queen Elizabeth II's reign, and, as well as the tree planting, took part in a street party complete with coronation chicken sandwiches and a jubilee cake, before taking part in a musical parade featuring sounds from the 1950s to the present day, and a Royal treasure hunt.
Members of Belmont Grosvenor School's PTA have chosen to raise money for Horticap, which provides adults with learning difficulties training in horticulture, allied crafts and rural skills, throughout the academic year.
Pupils have worked alongside Horticap students on a number of projects, including a successful wreathmaking project at Christmas that helped raise almost £300 for the charity, based at Bluecoat Wood Nurseries in Harrogate.
Youngsters from reception to Year 6 at the school, set in 20 acres of grounds on the edge of Harrogate, took turns to plant one of six cherry trees along the school drive as part of the school's celebrations for the Queen's 60 year reign. Horticap students and staff provided hands-on assistance, and advice on how best to care for the new feature in the school grounds.
Phillip Airey, Assistant Manager at Horticap, said his students were delighted to be part of the Belmont Grosvenor School Diamond Jubilee activities.
Phillip Airey said: 

We love working with the children at Belmont Grosvenor School and our students have been really excited about being involved in the tree planting for the Diamond Jubilee.

We will continue to keep an eye on, and regularly visit, these cherry trees and watch them grow and mature and know that we played a part in their planting.