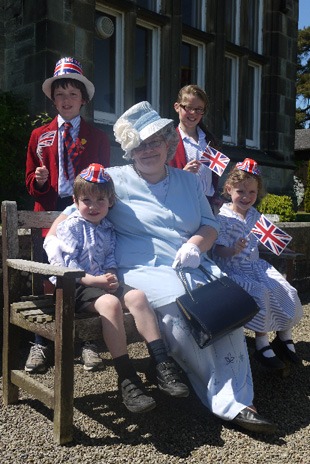 Pupils at Harrogate prep school Belmont Grosvenor were granted an audience with HRH The Queen aka actor Suzy Wilson, when she dropped in to see them in advance of the Diamond Jubilee celebrations.
The Royal visitor, aka actor Suzy Wilson of Harrogate-based educational theatre company Tempus Fugit, kept youngsters at the 'outstanding' school entertained with her stories of the highs and lows of her 60 year reign.
As well as recounting details of the Queen's accession and reign, she explained to pupils how other Kings and Queens of England have celebrated their jubilees, including Queen Victoria's Diamond Jubilee and celebrations during Elizabeth I's reign.
Pam Dight, Deputy Headteacher at Belmont Grosvenor School said all pupils from reception to Year 6 were invited to the audience with HRH Queen Elizabeth II.
Pam Dight, Deputy Headteacher said:

The visit from Tempus Fugit is designed to 'kick-start' our school's Diamond Jubilee celebrations as we have many exciting things planned for this week.
Belmont Grosvenor School, together with its Magic Tree Nursery, caters for children aged from three months to 11 years and is set in 20 acres of grounds on the outskirts of Harrogate.
Activities planned for the Diamond Jubilee celebration at school include a traditional tea party for pupils, tree planting to mark the six decades of the Queen's 60 year reign and a musical parade.