The nation's annual reminder about the importance of maintaining good oral health, National Smile Month, kicked off on Sunday. With around a third of adults and children in the UK still suffering from preventable tooth decay, and around ten million people admitting they only brush their teeth once-a-day, the UK still has much to do to improve its oral health habits.
An orthodontist from Wetherby has launched a competition that she hopes will inspire young people to take good care of their teeth.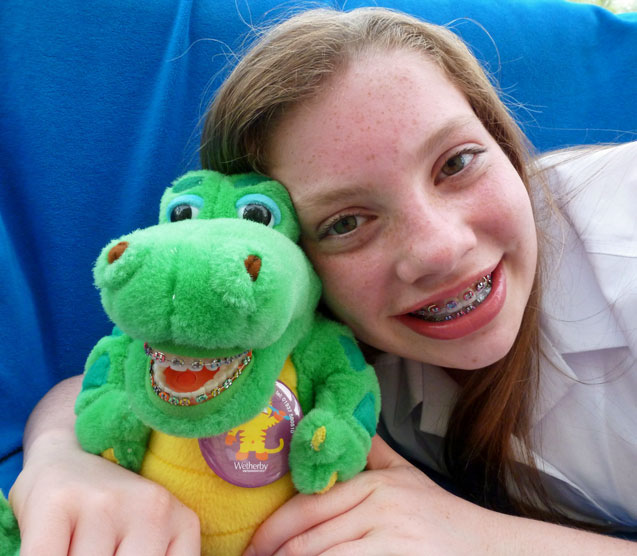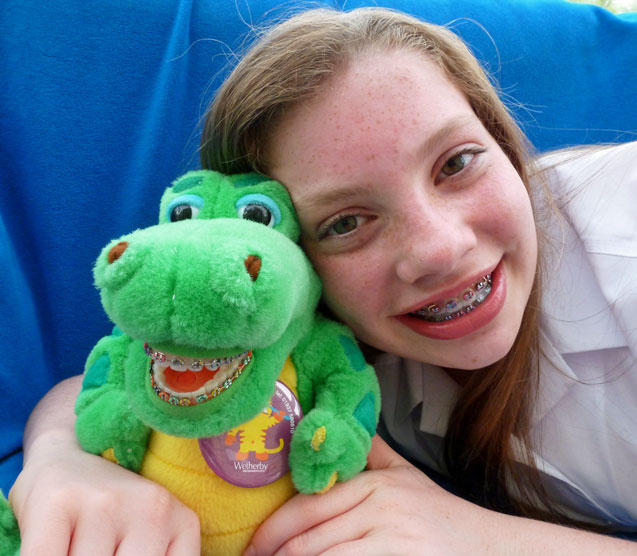 Orthodontic patient Hannah Cooke, 13, with the crocodile who needs a name
The "Name our Mascot" competition is being run by Megan Hatfield of Wetherby Orthodontics via the practice's Facebook page with entries also being accepted over the counter and online from younger children and those who don't use Facebook.
Megan said: 

Our cuddly green crocodile character has been wearing braces for six years and is in the clinic daily to befriend children who are undergoing orthodontic treatment but so far we have never given him a name.

First of all we will be collecting name suggestions and then we'll be putting them to the public vote to find the most popular.

We hope that along the way we'll be able to share plenty of messages about oral hygiene and dental care with the participants.
Organised by the UK's leading oral health charity, the British Dental Health Foundation, National Smile Month takes place every year and this year runs until June 20.
Megan explained: 

National Smile Month is an important event in any dentist or orthodontist's calendar as it gives us an opportunity to think of innovative ways to share our knowledge with the public.

The competition may be focussed on children but we also have lots of special offers for all ages, including half price consultations for new patients.
One in ten people have trouble relaxing; six per cent report emotional instability and four per cent of people say they have problems going out as a result of their oral health problems. Even around one in seven people (15 per cent) say they have trouble smiling and over a fifth of the UK adults have difficulties when eating.
Chief Executive of the British Dental Health Foundation, Dr Nigel Carter, said:

National Smile Month is an important reminder to everyone in the UK about their oral health. Unfortunately, many people are unhappy with their smiles often caused by poor oral hygiene over the years.

Poor oral health can be both physically painful and psychologically damaging. It can affect self-confidence, image and even how we are perceived by other people. From the many interesting studies into laughter millions of people may also be missing out on the positive benefits of smiling and having fun. National Smile Month is the ideal time to review your oral health routine and make sure you're not putting your smile at risk.
For more information on National Smile Month including advice and full details of the competition visit www.facebook.com/wetherbyortho