Student Jenna Johnson,  Angela Russell, It's Nut Free MD, Andrew Jones MP and Harrogate College Head of Operations – Julie Stephenson
Harrogate College Business & Management Foundation Degree Students pitched their business start-up concepts in a Dragons' Den style event to a panel of local judges.
Dragons Andrew Jones MP for Harrogate and Knaresborough, Angela Russell, It's Nut Free MD a former Harrogate College student, Chillipeeps MD Claire Mitchell from (www.chillipeeps.com) and Harrogate College Director of Operations Julie Stephenson scrutinised each students business proposal.
Students worked together to develop their entrepreneurial skills using marketing and finance skills from the course to apply to their business idea. Students had to thoroughly research their business concept looking at competitor analysis, Unique Selling Propositions, predicated first year costs and growth strategy for the first 5 years.
Angela Russell, It's Nut Free MD with Andrew Jones MP
The Dragons were impressed with the professionalism of the student investing in two out of the three businesses.
Andrew Jones MP for Harrogate and Knaresborough said:

The presentations were excellent with the students putting in a lot of work into the research and development of their business pitches to present a comprehensive case for investment. Well done to all the students as dragons we are investing in their businesses as local entrepreneurs of tomorrow.
Charlotte Hicks Business Foundation Degree Student said:

The pitch was really nerve racking but we soon started to enjoy it. We are all very passionate about our business idea and hope to develop it over the next year. I am progressing to the BA (Hons) Degree course at Harrogate College and hope to start the business once I graduate with my friends and course mates Marcus Parry and Mike Bond.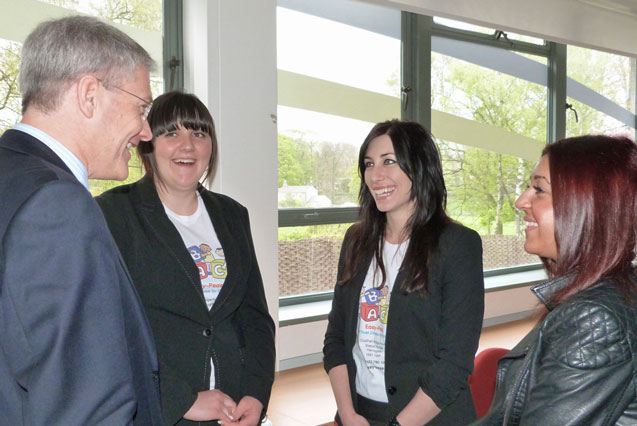 Angela Russell, It's Nut Free Founder and Director said:

The students were very professional and put a lot of work into the pitch. The students were very receptive to our ideas as a local entrepreneur I love to be able to offer the students support and advice.
To find out more about Art and Design courses or the range of other courses available, call the Course Information Office on (01423) 878211, e-mail: oncourse@harrogate.ac.uk or visit the website: www.harrogate.ac.uk