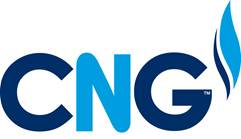 Harrogate-based CNG, the UK's leading independent supplier of natural gas for business, has clubbed together with Harrogate Round Table to support the annual Rotary Club of Harrogate Brigantes Golf Day which raised more than £5k.
Over the last four years, this key fundraiser has brought major sponsor CNG and other local businesses together to boost funds for Harrogate Young Carers by more than £26,000.
This money enables Harrogate Young Carers to carry out vital counselling support to a variety of deserving and hard pressed youngsters. This year, monies raised will go to support their 'BUDZ' After School Club, an innovative support scheme for very young carers aged between seven and 11 years old.
The day passed off very smoothly with over 110 golfers enjoying the challenge of Oakdale Golf course: the half way house was provided by the ladies of Inner Wheel whilst the evening's Charity Auction and dinner was its usual lively affair. All supporters and club members enjoyed a two course meal plus coffee in the evening.
Jacqui Hall (right), MD of CNG Ltd commented:
Once again this popular event has been a runaway success. We are delighted to be associated with it and it continues to deliver funds for worthwhile causes such as Harrogate Young Carers, which does such excellent work in this area.
Anne Wells from Harrogate Young Carers commented:
We are thrilled with the on-going support that this event provides and the monies raised continue to provide much needed new services like the BUDZ After School Club. Our services are an invaluable resource to many local young carers.
Barry Pollard, the joint organiser of this annual Rotary event commented:
The day ran exceptionally smoothly with even the weather being kinder to us than forecast. We would like to thank sincerely all our supporters . . . sponsors, advertisers, donors and teams for making it such an excellent and enjoyable day.