Back in 2010 local MP, Andrew Jones, joined volunteers to clear Birk Crag, Harrogate of rhododendrons which were destroying the natural habitat of the rare Chestnut Click Beetle – an insect only found on Birk Crag and the Isle of Wight.
Last weekend – during a reprieve from the rain – Andrew returned to Birk Crag with other volunteers from Harrogate Biodiversity Action Group (HBAG) and Bug Life – a charity based in York – to see if the elusive beetle had indeed repopulated the area.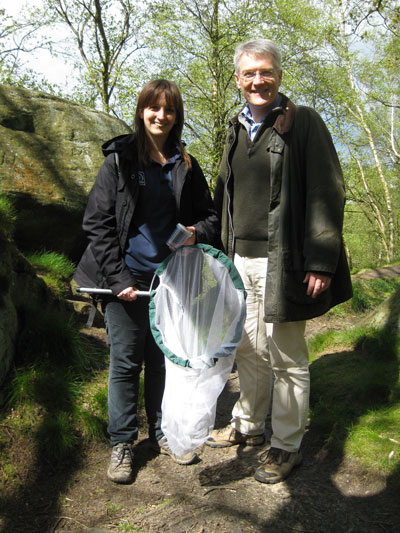 Vicky Kindemba, Buglife Conservation Delivery Manager, with Andrew Jones MP 
Andrew commented:
I regularly support the Biodiversity Action Group in its work to ensure native species are given the opportunity to thrive. But this occasion was particularly important as we were checking progress from an earlier expedition to clear Birk Crag of rhododendrons. This clearance should enable the Chestnut Click Beetle over time to repopulate the area.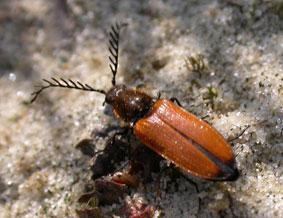 Maybe due to the previously wet conditions – or perhaps due to the natural reticence of the chestnut click beetle – on this occasion none were seen although a wide variety of other invertebrates including rarely seen beetles were spotted and catalogued during the bug hunt.
Andrew added:
Biodiversity is important and I have been pleased to support the Biodiversity Action Group long before becoming a Member of Parliament. The Birk Crag project is just a small part of the wide range of activities the Group and of Bug Life and I would encourage people to get involved.