Students from Harrogate sixth forms have come out in force to represent their schools in this year's Umph! business and enterprise competition, which is open to 16-19 year-old students across Yorkshire, and takes place in Huddersfield in July.
Teams of budding entrepreneurs from St Aidan's, Harrogate Grammar School, Rossett and Harrogate Ladies' College, as well as Boston Spa School, will join students from across Yorkshire to take part in this year's competition, which has also attracted a host of entrepreneur supporters to lend their weight to the contest.
The entrepreneurs, who will work closely with the students on the day of the competition, will give the youngsters the benefit of their own knowledge and experience in business in intimate workshop-style sessions. Representing a range of industry sectors, they include Allison Whitmarsh, the business brains behind homemade cakes success story, Proper Maid; and medical entrepreneur Richard Paxman, whose Huddersfield-based business Paxman Coolers produces globally-used scalp cooling caps which help prevent hair loss in chemotherapy patients.
Also closely involved with the competition is Jacob Hill, the 19-year-old student entrepreneur behind the Lazy Camper website, which supplies tents and other essentials for festival goers. Jacob is joined by fitness guru Andrea Springthorpe, who launched her own successful business, Fit4Force, offering training packages aimed at people who are serious about getting into shape. Andrea will explain to this year's Umph! competitors how she was able to turn a small idea into a reality and create a successful business, even in a challenging economy.
After setting up the business in July last year, Andrea said she had learned from her mistakes as she had gone along.
Andrea said:
I feel that I am just starting to find my feet and to have gained the experience to be able push the business forward. Umph! is exactly the sort of opportunity that could have given me the knowledge and inspiration to start my own business earlier in life.

There seems to be a knowledge gap between education on one side, and business and enterprise on the other. Schools, colleges and universities should all be doing more to nurture a passion for business in young people. Initiatives such as Umph! are doing an essential job in bridging that divide. It's vital that we inspire our young people – who will become the business leaders of tomorrow – and inform them about the kinds of knowledge, skills and attitude they need to embrace the innovation and entrepreneurship that are so vital to the economy.
Cake maker Allison Whitmarsh, whose clients range from Manchester Airport to local tea rooms, said:
When I was at school I knew I wanted to work in the food industry but was only encouraged to go on a basic catering course. That certainly stood me in good stead but from then on I felt trapped by not having any business skills or understanding of the commercial world until I finally went on to university aged 40. I hope that by getting involved with Umph! I'll be able to provide some of the sort of inspiration and encouragement to aspiring young entrepreneurs that I would have benefited from so much myself at that age.
The competition, which uses the award-winning business simulation software, SimVenture, is part of Grant Thornton's Educate to Innovate programme. It aims to encourage entrepreneurialism and forge links between businesses and education in the region.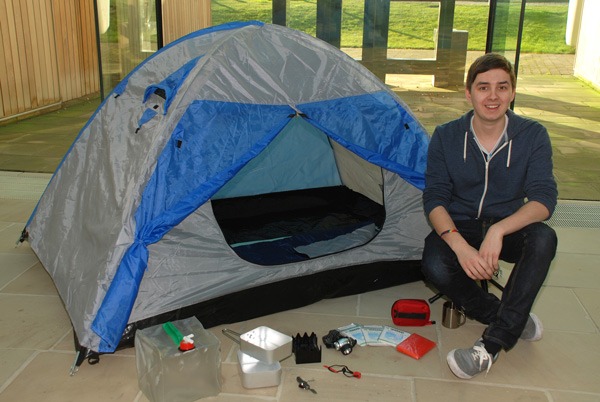 Jacob Hill, the Lazy Camper
With a few places still remaining for competitors, teams of four 16-19-year-old students from across Yorkshire, representing their school, sixth form or FE college, are invited to enter online at www.umph.uk.com.
Huddersfield Town Football Club, SimVenture, Dickinson Dees, Fantastic Media, Kirklees Council and Huddersfield University are also supporting the event.