The Harrogate Antique and Fine Art Fair got under way today (3 May 2012), running until Monday  from the Harrogate International Centre.
It's primarily a buyers' fair where like-minded people can discuss and purchase fine art and antiques and has been running for over 30 years.
Walker Galleries of Harrogate, one of the leading galleries in the UK from their Montpellier base, have a large display of work by Yorkshire painters.
Ian Walker of Walkers Galleries with a Herbert Royle (1870 – 1958) – 'Spring Time in Wharfedale' an oil on canvas
Ian Walker said:
The fair is important to us as it allows us to get together with existing and new customers.

We specialise in Yorkshire painters and paintings and it is an opportunity to bring talents to a wider audience – the show is one of the leading shows in the North of England.
Ian Walker is the most recent past chairman of the British Antique Dealers' Association and also has on show on  a watercolour depicting Queen Victoria's Jubilee.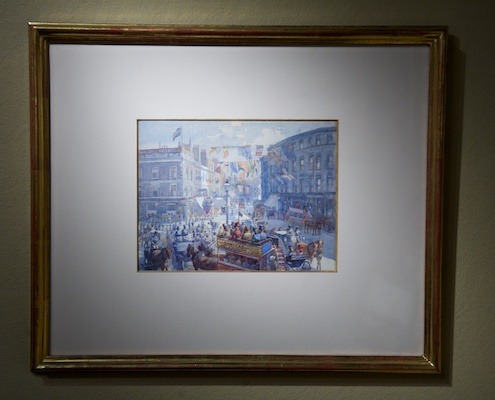 William Harding Collingwood Smith (1848 – 1922) – Kensington High Street on Queen Victoria's Jubile 1897
Ilkley based, Jack Shaw and Co were exhibiting a fine range of silver ware.
Jon Shaw of Jack Shaw and Co said: 
We have had a successful first day and have made a number of sales and there has been interest in many other items too.

The fair and shows are really essential to our business now as we are moving away from just running a traditional shop. Our business now depends on the fairs much more.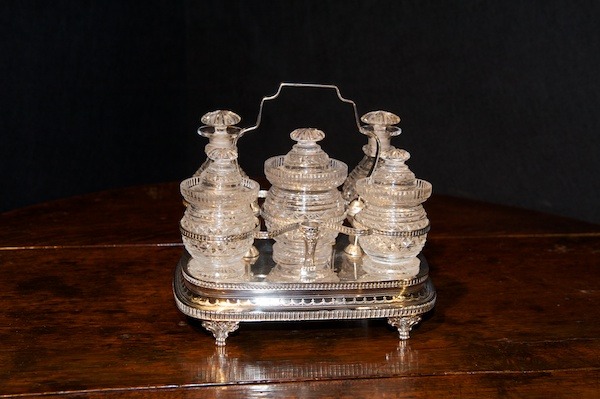 York hallmarked silver condiment tray – Jack Shaw and Co.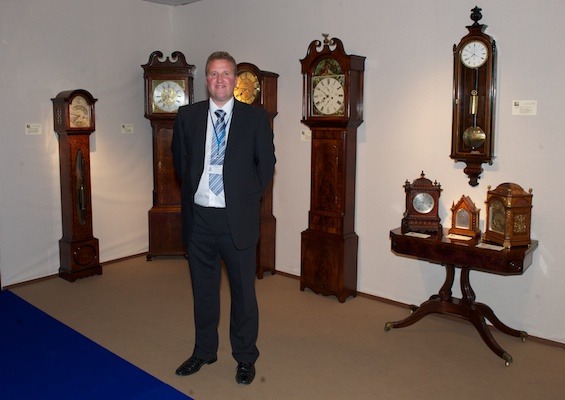 Richard Story of Story Antique Clocks
Baroness Masham of Ilton is the Patron of the Harrogate Antique and Fine Art Fair. The fair supports her chosen charity of the Dales Branch of the Motor Neurone Disease (MND) Association. Baroness Masham and the Mayor toured the fair and then visited the MND display, talking to some of the volunteers.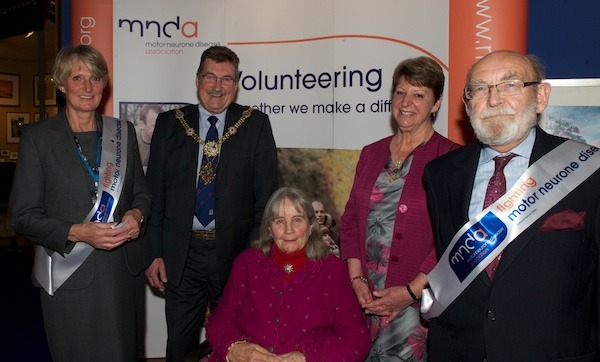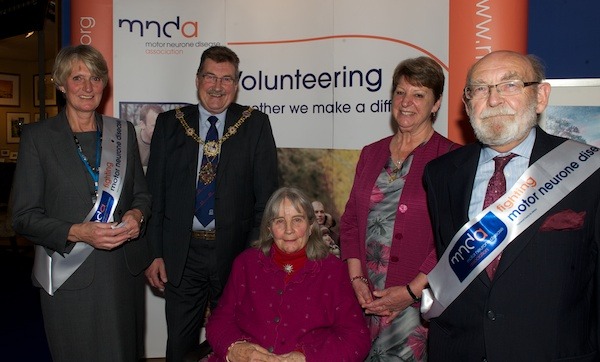 Libby Wade of MND, The Mayor of Harrogate, Les Ellington, Barones Masham of Ilton, Mayoress of Harrogate, Christine Ellington, and Alan Bennet of MND
Also showing at the fair: Haynes Fine Art of Broadway, and Rowles Fine Art. Specialist company 'Art of the Imagination' are returning with their stunning illustrations. Fine jewellery will be represented by Howards of Stratford, St James Antiques of Manchester, Sheldon Shapiro and Licht & Morrison of Mayfair. Silver will be shown by Jack Shaw & Co from Yorkshire and Vine Antiques and Edward Burd are back with their fascinating range of clocks and barometers. There will be pottery and porcelain from Roger de Ville, John Newton and Philip Carrol and furniture from Millington Adams, S & S Timms and Church Street Antiques.
The fair continues Friday, 11am – 6pm, Saturday & Sunday 11am – 6pm, Monday 11am – 5pm