Trolls, Dragons, Knights, Magic and Legendary Local Music in Store for Jubilee Weekend
Dragongate festival blends the cream of Yorkshire talent with the finest family entertainment and is back by popular demand to Bluecote Meadow this summer.
June 1st-3rd will see the stalwart festival crew return to the relaxed and colourful Otley Road site for a magical weekend of frivolity. And everyone's invited!
Already confirmed to grace the Black Dragon Main Stage are eclectic local favourites The Birdman Rallies, The Paul Middleton Angst Band and the reformed and rapidly ascending Kassius. Not to mention Leo Brazil and his Twitch, the Pete Oliver Band (without a twitch), the Vicky Wheelan Band, Crafters and Little Drafts.
Meanwhile, the "Ont' Sofa" Acoustic Stage plays host to the extraordinary talents of Becky Mills and Patsy Matheson, Annie Drury, Andy Doonan, Angeline Bjerregaard, Ephy Clarke Band, Paul Liddell, Bianca Gerald, Angie Shaw and James Sant. Or for something a little livelier, the Red Dragon Dance tent will feature big beats from DJ Bam, The Urbanizer, Archeo Banquerta, Luvjam, Keith Fox, Bri Buckle, Rory Hoy, CGi and Mr Wicker.
Many more acts and band info on their website. More acts to be confirmed online soon.
But it's not just the music that looks set to enchant Dragongate's festival-goers!
The Magic Dragon Kid's Space has a packed line up of mystical family fun. With Arthur's Knights of the Round Table as its theme, there will  be Tall Tales from the Flamborough Trolls, Professor Grunamunch's Punch and Judy, a dance competition (with celebrity judges and a Prize!) and a full programme of theatre, arts, crafts and story telling under the Faraway Tree. All Free! There's even a pool table and table football in 'The Pyramid', Poems Prose and Pints, stalls, PizzaLoco, Comedy with Rob Alexander and 'Rock Up and Sing!'
Circus Skills Workshops for all abilities will be run by Butterfingers' astounding team – including a fire juggling workshop for anyone brave enough and a spectacular Fire Show on Saturday night.
And there's always the opportunity to relax and unwind in our Healing Garden, run by Cherry Blossoms Holistic Healthcare, or in the Copper Dragon Bar, serving the finest Yorkshire Ales.
With just two months to go until the big weekend, the creative team are already busy preparing the site for what promises to be a magical festival experience. Visitors can expect visual treats and a friendly welcome, as organiser Allan Smyth explained:
The Dragongate Team brings together lots of talented local people who've spent many summers working in creative roles at bigger, more commercial festivals further afield. Dragongate is about bringing these skills back home and creating something really special for Harrogate. Especially this year, we think people will appreciate some quality, affordable entertainment, with home grown flavour and a magical atmosphere, without having to travel too far to find it!
Adult weekend tickets for Dragongate Festival are just £35, youth weekend tickets (11-17s) are £25 and kids under 11 go free! Camping and parking are included in the weekend ticket price and day passes are also available. All tickets can be bought online or on the gate.
For more info or to purchase tickets please visit www.dragongatefestival.co.uk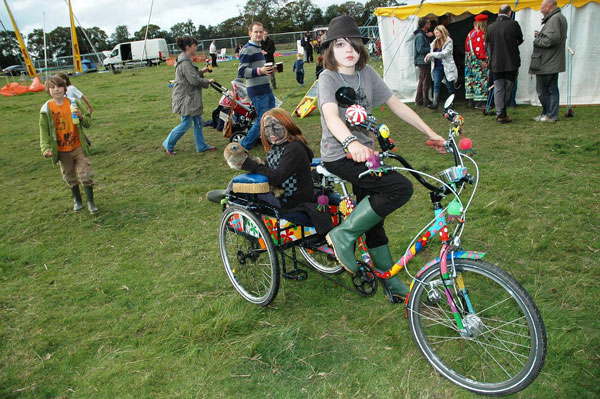 Images by Matt Watson of  Dragondrop.org