The Mayor and Mayoress of Harrogate welcomed 50 teachers and students from Bulgaria, Cyprus, Hungary and Italy to Harrogate on 24th April to take part in the final visit of the international Comenius school partnership scheme.
The international scheme, hosted in Harrogate by St John Fisher, aims for students to gain valuable first hand experience of each country's languages and cultures through an exciting programme of educational activities.
After a ceremonial welcome at the school, the European students enjoyed a treasure hunt around Harrogate, allowing them to witness the Great British public in action! Other highlights of the trip were the combined production of an international play written by St. John Fisher's Head of Drama, Mr Hansen, and inspired performances of a series of original dramatic comedy plays – one written by each country, which were preceded by a grand performance by the school's award-winning senior choir. To top off the entire experience and put the 'icing on the cake', the project culminated in a party for the Comenius students and teachers with a hog roast and English barn dance in the school.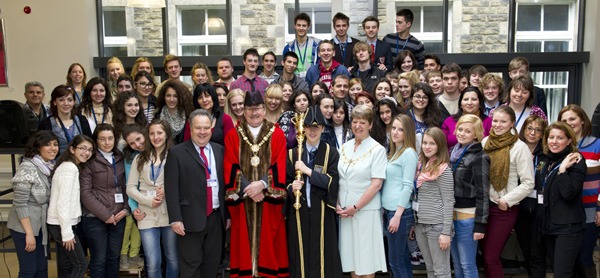 The Comenius project is just one of the school's many activities that has led to its achievement of the prestigious International School' status this academic year. Talking about her experience of visiting one of the partner schools in Debrecen, Hungary as part of the Comenius project, Year 10 student Niamh Brookes explained:
It has given me a complete insight into Hungarian life both old and new. I learnt a lot about Hungarian culture and the people there. Forming relationships with families from other cultures has been fun and very rewarding and it's been great to have our international friends over to Harrogate for the return visit.
St John Fisher Comenius Project coordinator, Rachel Brooks, said:
We believe that participation in projects like this really contributes to our students' academic and extra-curricular success. Having the opportunity to travel and make friends from around the world helps them understand foreign culture, something that is incredibly important with an increasingly diverse British community. If students take part in such programmes before the end of compulsory education, they will leave school with greater knowledge of human geography and have rich experience to offer to potential employers. It is our aim as a school to offer once-in-a-lifetime opportunities to all our students.

It was fantastic to have the support of Harrogate Borough Council for the welcome, and great to see how beneficial the Comenius project was to the students of St. John Fisher. Further links with the other schools from the Comenius project are in the pipeline after such a successful two years.